An open organizational approach to developing COVID-19 treatments could accelerate the search for a cure.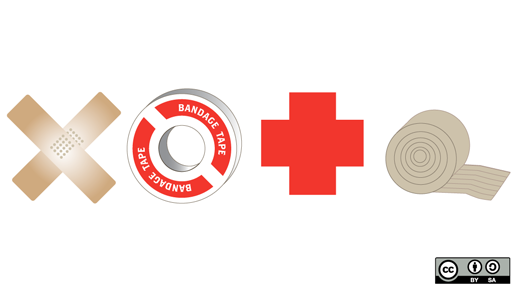 At least 109 organizations are currently working on treatment for COVID-19. But many researchers believe an approved, effective vaccine against the coronavirus will not be available in 2020.
Learn about open organizations
But what would happen if these organizations collaborated on a global scale? What if they adopted open organization principles to accelerate the work of finding a treatment and cure?
In this article, I'll examine how that might be possible. And I'll explain one initiative that seems to be doing it.
A call to be open
Let's consider how an open organizational framework—one built on values like community, inclusivity, collaboration, transparency, and adaptability—could impact the search for effective COVID-19 treatment quickly.
Community: Organizations must assemble communities or alliances dedicated to finding a treatment to address this challenge.
Inclusivity: Members of these communities will more than likely include members that they'd never considered before, like competitors.
Collaboration: Deeper collaboration between community members will be required if the work will be successful in a timely way.
Transparency: The more transparent the effort the better, so members can learn from each other and not duplicate work, saving a great deal of time.
Adaptability: When a member learns it is on the wrong track, it has to redirect itself. If other members know of that failure, the entire community can save time, energy, and resources. All can adjust quickly. And from that failure, new approaches could surface.
Competing rather than collaborating?
About three years ago, I wrote an article on when companies should compete and when they should collaborate. I mentioned four factors an organization should consider when determining whether competing or collaborating is its best option.
Let's look at those factors and apply them to treating COVID-19:
Problem simplicity: Is the issue at hand simple and easy to solve alone? Finding treatment for COVID-19 is anything but simple. Not only pharmaceutical companies but also universities with research departments, research institutes, governments, and philanthropic foundations will need to play a role in finding successful treatment.
Human relations importance: If an organization wants to build a long-term relationship with other organizations, exposing those organizations to a shared problem, like developing COVID-19 treatment, might be the way to build that relationship. Most researchers want that long-term relationship, as they learn from each other. This type of research will result in a lot of trial-and-error, so the more involved, the better. Researchers can learn from each other's successes and failures which will save a great deal of time, effort, and resources.
Knowledge of solution: If one pharmaceutical company possesses all the knowledge required for developing treatment and a vaccine, being closed and handling it in-house would probably be best and most productive. On the other hand, if a pharmaceutical company knows very little about possible treatment and vaccines for COVID-19, being open and seeking outside support would be more appropriate. To my knowledge, at least 109 organizations are working on treatments for COVID-19. And at least 15 organizations are working on a transmission-preventing vaccine. Global collaboration, inclusivity, and transparency among the appropriate organizations and researchers are definitely required here.
Project process and duration: Can the issue be solved quickly and easily? As I understand it, transmission preventing vaccines may take years to develop. In the very best of cases and at the earliest, developing, producing, and approving a transmission-prevention vaccine will require 12 to 18 months. Reducing COVID-19 cases will involve many tasks, trial-and-error tests, and milestones along the way.
Building a community
Now let's examine an alliance among private sector pharmaceutical companies—specifically a plasma-development alliance formed to seek a COVID-19 treatment vaccine.
Using open organization principles, hopefully, alliances like this one will discover treatment medicines in a fraction of the time it would take if they had to work independently of each other.
Takeda Pharmaceutical Company Limited, headquartered in Osaka, Japan, formed this alliance in May 2020, to accelerate development of a plasma-derived hyperimmune globulin therapy for COVID-19. It's called the CoVIg-19 Plasma Alliance (its CEO discussed the initiative on CNBC). Members of the alliance began asking for convalescent plasma, so they could begin experiments. The alliance has received rapidly expanding donations of convalescent plasma to begin clinical studies (the U.S. National Institutes of Health is confirming clinical trials with this plasma). The alliance urges anyone who has recovered from COVID-19 to consider donating today.
As alliance membership has expanded (it includes 10 plasma companies at the time of this writing, as well as global organizations outside the plasma industry), members have begun collaborating on clinical trials. At one time, these members may have been competitors who didn't share information; however, for this project, collaboration is the fastest, most productive way to create quality treatment, one that could lead to a wide variety of treatment methods globally.
Let's examine how this collaborative alliance is composed.
Pharmaceuticals
Takeda Pharmaceutical Company is a global, R&D-driven biopharmaceutical company. Its employees work with partners in health care in approximately 80 countries. Also, part of the alliance is Biotest in Dreieich, Germany, Bio Products Laboratory (BPL) ( in the United Kingdom), CSL Behring (the parent company of which, CSL Limited, is in Melbourne, Australia), LFB (founded in 1994 in France), and Octapharma (headquartered in Lachen, Switzerland). Shortly after the alliance began, ADMA Biologics (in Ramsey, NJ and Boca Raton, FL) joined it, as did BioPharma (a Ukrainian biopharmaceutical company), GC Pharma (formerly known as Green Cross Corporation) from Yongin, South Korea, and Sanquin Blood Bank (in Amsterdam, The Netherlands).
These organizations will contribute specialized advisory expertise, technical guidance, and/or in-kind support to the alliance's goal of accelerating development and distribution of a potential treatment option for COVID-19.
Government agencies
In parallel, the alliance has confirmed it will work with the National Institute of Allergy and Infectious Diseases (NIAID) at the National Institutes of Health (NIH) to test safety, tolerability, and efficacy of the hyperimmune therapy in adult COVID-19 patients. Partners anticipate that this global study will begin in the summer and will form the foundation of potential regulatory approval of hyperimmune therapy (which has the potential to be one of the earliest treatment options for COVID-19).
One goal of the alliance is to be a partner with institutions, and also to help develop regulatory strategies that can give global health authorities the confidence to streamline the approval process.
Cross-industry support
Support for the effort comes from across industries. As collecting convalescent plasma is key to developing this potential hyperimmune globulin treatment, Uber Health is providing support. Uber Health has agreed to donate 25,000 round-trip rides to transport potentially eligible donors to and from plasma collection centers. The plasma collection center will directly coordinate these rides for individuals with confirmed appointments.
Moreover, Microsoft is providing technology support, including the alliance website and the Plasmabot for donor recruitment, which streamlines the process for a potential donor to quickly gain information about their nearest collection center participating in the member network.
"Partnership and collaboration are critical to the success of the CoVIg-19 program," said Julie Kim, President of Plasma-Derived Therapies Business Unit, Takeda, and co-leader of the CoVIg-19 Plasma alliance. Both speed and scale are vital to the success of the alliance, and that is why their ability to adopt open organization principles is so important.
For example, considering the open organization principle of inclusivity, the CoVIg-19 Plasma Alliance might itself consider aligning with other global alliances, such as GAVI, The Vaccine Alliance. GAVI works with governments to supply lifesaving vaccines to children for many infections and have prevented more than 13 million potentially fatal cases due to that work. GAVI is now starting to work on COVID-19 vaccines. World leaders have pledged US$8.8 Billion to GAVI to improve global health.
Finding a cure
Now that the alliance has formed, an important question remains: How can members collaborate effectively? As I've already mentioned, they are jointly gathering plasma. What about development? They could be transparent about the type of tests each company would like to perform (that way, they won't be duplicating their efforts). They could also look over their current members and ask what skills or expertise they're lacking. Do they need added expertise, and could they be more inclusive to other companies/alliances (as in the GAVI example I offered above)? The alliance could physically or virtually have meetings, conferences, or summits to address these issues. At the same time, they could form task forces (sub-communities) to work on specific tasks.
Using open organization principles, hopefully, alliances like this one will discover treatment medicines in a fraction of the time it would take if they had to work independently of each other.
Ron McFarland has been working in Japan for over 40 years, and he's spent more than 30 of them in international sales, sales management training, and expanding sales worldwide. He's worked in or been to more than 80 countries.

This work is licensed under a Creative Commons Attribution-Share Alike 4.0 International License.
Download the Open Organization Definition
Now with full-color illustrations