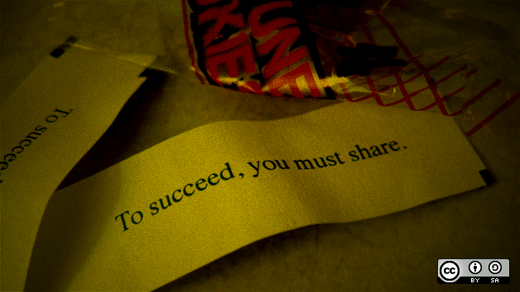 Starting two weeks ago, you might have noticed some shiny new objects on the site. In fact, some of you have already been distracted by them. Others of you might not have noticed at all. So we're making sure.
We finally added share buttons to each article. Specifically, we added buttons for Twitter, identi.ca, reddit, StumbleUpon, and Facebook.

The suggestion came during our first Open Your World webcast series with Stefan Lindegaard. During the pre-call, Stefan said something to the effect of, "Why don't you just put a big Twitter button on the page so I can share this content." So we did.


We didn't rush out and do it the next day, though I wish we could have done it sooner. We waited so we could examine our stats (yay, analytics!) and determine which buttons we should add. We guessed that Twitter and Facebook were givens. Our data told us we were right, but added that we get a good amount of traffic from reddit and StumbleUpon as well.

Although we aren't seeing a lot of usage or traffic from identi.ca compared to the other social media outlets, it's the open source equivalent to Twitter, and we felt it deserves a spot. For now.
Example


We also decided to keep the "Share" button that's all the way at the bottom. To be honest, we don't think it gets used very often. But it has got about every single social network site on it known to man. We wanted to cover all the bases.
It could be that it's in a bad place on the page, or it might be that it simply has too many choices. We're hoping that by putting the options that are used most frequently in a more prominent place, it'll make it easier for us to share more often.

We can't guarantee that we'll keep each button. You'll notice there's room for probably one more. For right now, though, we like having five. It looks good and it's not too distracting or crowded. In the future, we may swap them out or we might go with something else entirely.

Fact is, the buttons are there for you and other community members. We think we've got good content and we want to make it easy to share what you like with your networks. Feedback, as always, is welcome.
Does this format work for you? Do you prefer something different? Who does it best or better? Let us know in the comments.
Jason Hibbets is a Community Director at Red Hat with the Digital Communities team. He works with the Enable Architect, Enable Sysadmin, Enterprisers Project, and Opensource.com community publications.

This work is licensed under a Creative Commons Attribution-Share Alike 3.0 Unported License.