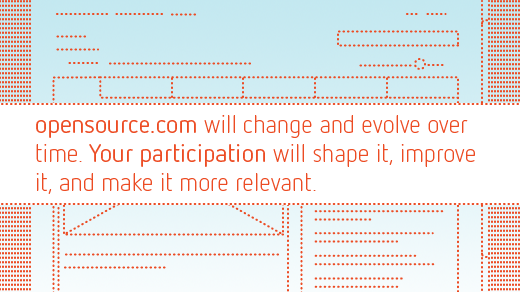 The contributions and participation since we launched opensource.com on January 25 have been awesome. We've had more than 1,600 users register with the site and make over 600 comments on the posts across all the channels. That's a great start. Whether you joined us on day one or yesterday, we continue to encourage and appreciate your participation.


And now it's time to get some feedback so we keep moving forward. We'd like to hear your thoughts on the content.

Tell us what you think about opensource.com so far:
What do you like?
What don't you like?
What features do you like and use?
What types of features would you like to see on opensource.com? This may be things you use on other sites, or entirely new ideas.
To answer, take our quick, six-question survey.

You can also use the comments on this post to start a conversation with moderators and other contributors and moderators.
Thanks again. We're glad you're here.
Jason Hibbets is a Principal Program Manager at Red Hat with the Digital Communities team. He works with the Enable Architect, Enable Sysadmin, Enterprisers Project, and Opensource.com community publications.

This work is licensed under a Creative Commons Attribution-Share Alike 3.0 Unported License.