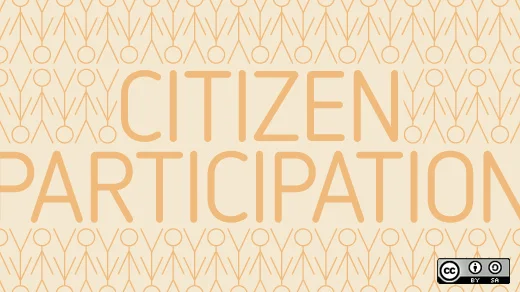 Election night for the US presidential election as come and gone, but the memory of our hackathon lives on.
Stepping forward and taking action is a characteristic of the open source community, which wields technology and its application as simple force for good. For the sixth time that long-standing tradition of civic duty and open source collaboration was upheld on Tuesday, November 8, 2016, when the Rochester Institute of Technology's FOSS@MAGIC program at the school's MAGIC Center held its annual Election Night Hackathon. Over 140 students from across campus and across departments gathered together as the election night results rolled in to work on a range of civic projects.
Starting the hackathon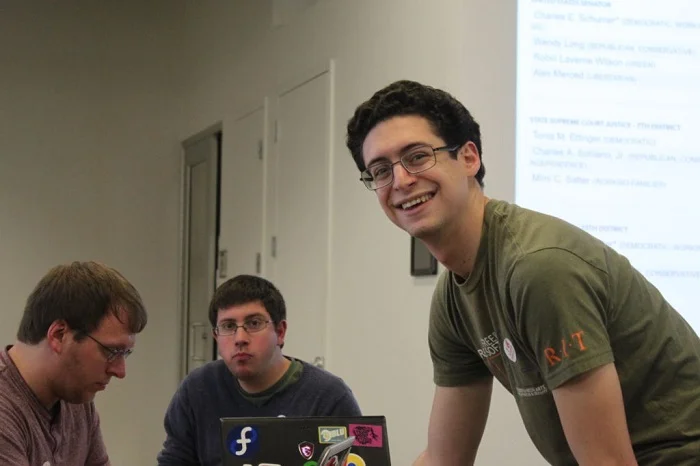 Dan Schneiderman, event coordinator and FOSS@MAGIC liaison updating the news sources on the projector screens.
For this year's event, registration was ticketed because of the overwhelming interest in the election. At 5 p.m., the sign-in table popped up in front of the Student Innovation Hall, where the hackathon would take place. Students lined up to receive their wristband for admission, food, and open source swag. The meeting space quickly filled up over the next hour and people began settling in for the night to work on projects (and yes, maybe homework). On all sides were projector screens with a range of sources for election night coverage, which also included information related to New York state and local races. There would not be a lack of information through the night.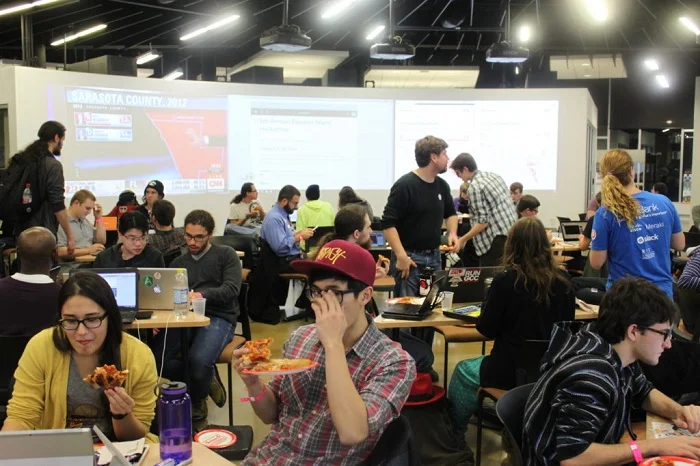 The Election Night Hackathon was a full house after the kick-off ceremony.
The Election Night Hackathon had no shortage of goodies provided by numerous open source organizations, companies, and supporters. As per tradition, the "swag table" featured plenty of stickers for people to add to their laptops or other devices, including such favorites as Fedora Project, GitHub, Red Hat, the MAGIC Center.
Projects
At the peak of the event, nearly 140 students, faculty, staff, and local citizens filled the MAGIC Center and overflow work spaces. Dan Schneiderman, the event's coordinator and the FOSS@MAGIC Research Associate and Community Liaison, led the event on a high note with a brief kick-off ceremony. Hackers were provided with a list of resources for building applications related to civic hacking. Shortly after the start, attendees began to discuss project ideas to work on throughout the night. Professors and alumni provided mentorship, advice, and help for students planning projects.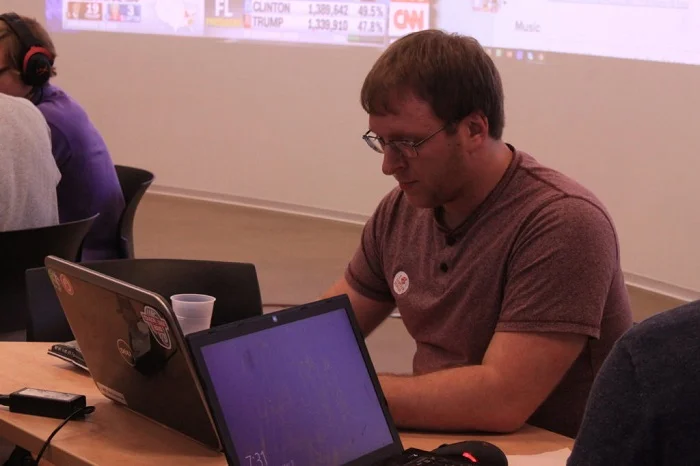 Mark Repka works on his 2016 Election Viewer app. 
Computing specialists rolled up their sleeves, figuratively, and began to build. Tyler Reimold worked on creating an open source server for real-time election updates in a Reddit thread. His Python-based project used the Huffington Post and Reddit APIs to build the application. Adjunct professor at Monroe Community College David M. Shein gathered a small group of hackers to build a website. The website, thankyousuffragists.org, honors and maps the graves of women around the country who campaigned for the right to vote. The early stage site allows people to add the locations of graves around the country to a map. "I personally loved how a number of our attendees were inspired by the crowds that stopped by Susan B. Anthony's grave in Rochester, which then led to a project focused on honoring her work," Schneiderman said.
Additionally, another project was the 2016 Election Viewer by Mark Repka, a developer at Kodak Alaris. His Node-powered application delivered a state-by-state breakdown of election results throughout the night. Attendees were encouraged to use it and provide feedback as he built the site to provide accurate coverage during the heat of the election coverage. You can view Mark's application on his website, browse its own API, or find the source code on GitHub (MIT License). Many other students worked on smaller projects or collaborated with professors on other ideas. Dr. Ronald P. Vullo, associate professor of Information Sciences and Technologies at RIT, opened a call for students to help him with a virtual reality idea powered by AFrame. Most of the projects and work from the evening was published on GitHub in the spirit of contributing civic hacking projects to the open source ecosystem.
And the winner is…
After seven hours of hacking and nail-biting, the election results were mostly called by midnight. With a short conclusion speech by Schneiderman, the hackathon began closing down in time for the next day of classes. "[My favorite part was] the collaborations and the mixing of students from majors that don't usually get to work alongside each other. Attendance was a mix of computer science, marketing, political science, engineering, history, and visual arts," Schneiderman said.
Special thanks for the event go to the MAGIC Center at RIT for providing space and resources for the event. Additional thanks go to Red Hat for supporting the FOSS@MAGIC initiative, so these events are made possible. You can find the full photo album from the event on 500px.
The Election Night Hackathon is a mind-expanding opportunity for students to engage in discussion and collaboration with others in the community to identify issues in the civic area and try to build open source solutions to those problems. We're looking forward to continuing the tradition next year for the 2017 round of local, state, and federal elections.
Justin W. Flory is a creative maker. He is best known as an Open Source contributor and Free Culture advocate originally from the United States. Justin has participated in numerous Open Source communities and led different initiatives to build sustainable software and communities for over ten years.

This work is licensed under a Creative Commons Attribution-Share Alike 4.0 International License.