Check out the top 10 open science articles of 2016.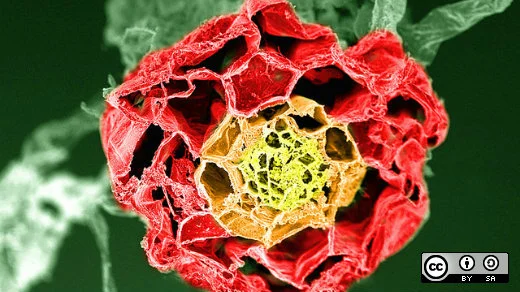 The collaborative model in science, both in academia and in private research, is tried and true, so it should be no surprise that open source takes the same route. Contributions from professionals and those who have a shared vocation by another route, combined with directed learning and a focus on sharing and collaboration, produces results that are usually elevated above one individual's work. That last attribute, collaboration, in particular makes open science such a happy pairing.
Science articles are always popular on Opensource.com and 2016 was no exception. Here are our top 10 open science articles this year.
7 science projects powered by open source GIS
In preparation for FOSS4G North America, Jason Baker introduced seven projects using open source geospatial information science (GIS) tools. Open source GIS tools are used to do a variety of tasks: map ancient archaeological sites, get aerial data, even crowdsource the detection of illegal logging roads in remote areas of the rain forest.
Free, high-quality education resources from the National Science Digital Library
Don Watkins has a passion for bringing open source into the classroom. In this article, he shares the National Science Digital Library, a collection of high-quality online educational resources for teaching and learning science. Given the current emphasis on science, technology, engineering, and math (STEM) education, this resource is invaluable.
Help us integrate GitLab and the Open Science Framework
The scientific community is beginning to understand the benefits enjoyed by open source developers, specifically that transparency leads to improved collaboration, which leads to better results. Andrew Sallans writes about a project funded by the Center for Open Science to integrate GitLab and the Open Science Framework (OSF). GitLab is an application to code, test, and deploy code. The OSF provides collaborative resources to scientific communities, allowing them to practice the work in the open.
A first look at Google's Science Journal app
Nothing promotes scientific inquiry like making information ready available. In this article, Marcus Hanwell introduces Science Journal, an app developed by Google to turn Android devices into scientific notebooks. Using sensors on the phone, users can make observations and record notes. Arduino prototyping platform kits can extend the capabilities with additional sensors. This app can also serve as a great way to get kids involved, as Marcus's seven-year-old son can attest.
How to incorporate open source into computer science classes
Gina Likins spoke to computer science instructors to learn how they bring open source software into their computer science courses. These four women described the benefits that exposure to open source projects bring to their students (looking at real-world code, having to study code that someone else wrote, and the opportunity to make their own contributions), as well as some of the challenges educators face. They also describe ways projects can make it easier for instructors to bring in open source, including offering mentorship to educators and students alike, providing clear contribution guidelines, and preparing productive tasks for students.
New journal HardwareX to promote open source hardware for science
Open source isn't limited to software; open hardware is a major community, too. Dr. Joshua Pierce wrote about HardwareX, a new journal focused on open hardware for science. Published by Elsevier, HardwareX is an open-access, peer-reviewed journal. As part of the publishing requirements, all designs must be released under an open license. By providing a forum for researchers to share their work, the HardwareX hopes to accelerate the pace of scientific discovery.
Computer science professor on the changing face of tech
D Ruth Bavousett shared her thoughts from Dr. Kyla McMullen's keynote at OSCON. Dr. McMullen was the first African-American woman to graduate with a Ph.D. in Computer Science and Engineering from the University of Michigan. McMullen shared four keys to making tech communities more inclusive: be nice to newcomers, wear your difference with pride, find your tribe, and mentor someone who is different from you.
Can we tackle the Zika virus with rapid, open research?
The rapid spread and tragic consequences of the Zika virus was one of the top science stories worldwide in 2016. Marcus Hanwell wrote how rapid publication, unrestricted reuse, and an emphasis on disseminating research helped take Zika from a relatively unknown virus to the subject of major study in a short period.
How scientists are using digital badges
Scientists might not need no stinkin' badges, but they are a widely used way of acknowledging skills or achievements. In this article, Marcus Hanwell highlighted an effort to offer badges to journal authors. These badges act as a simple signal that the article has open data or open materials. In an article published in PLOS Biology, researchers found a significant increase in data sharing after Psychological Science began offering badges.
What science fiction technology should be open source?
For as long as there has been science, there has been science fiction. The two feed off of each other, providing inspiration in both directions. In March, we posted a poll to ask readers which fictional technology they hope to see available in an open source version one day. The holodeck—the cause of, and solution to, all of Star Trek's problems—was the clear winner. With any luck, we'll be writing about that project in the 2017 Open Source Yearbook.
Ben Cotton is a meteorologist by training, but weather makes a great hobby. Ben works as the Fedora Program Manager at Red Hat. He co-founded a local open source meetup group, and is a member of the Open Source Initiative and a supporter of Software Freedom Conservancy. Find him on Twitter (@FunnelFiasco) or at FunnelFiasco.com.

This work is licensed under a Creative Commons Attribution-Share Alike 4.0 International License.