The age of open source consumer drones is upon us.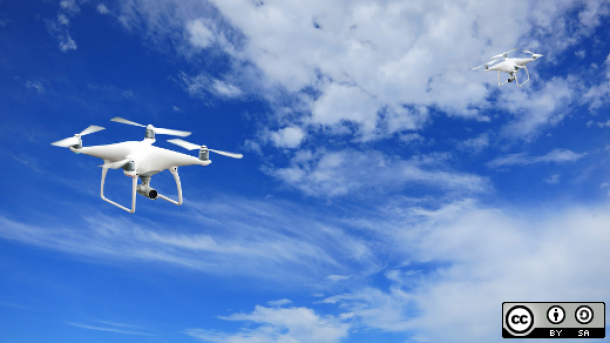 The age of open source consumer drones is upon us.
DronePan is a mobile-based autopilot app for DJI drones that automates the process of shooting aerial imagery for spherical panoramas. Users fly their aircraft to the desired panorama location and then launch DronePan, which temporarily takes control of the aircraft heading and camera angle. After a simple tap or two, DronePan begins shooting 15 to 25 photos automatically with the proper overlap required for an aerial spherical panorama. When the panorama is complete, users resume manual control and can fly to other locations to shoot more panoramas.
DronePan started as an experiment in early 2015, and it has since gone through countless iterations based on constant testing by the now 30,000-strong user base. It is compatible with most DJI drones, and the most recent project added support for the newly released and ultra-portable drone known as the DJI Mavic.
This is a recent Mavic DronePan shot by Chris Thompson in Hawaii:
Why DronePan?
Prior to DronePan, pilots would have to snap the sequence of overlapping photos manually, which required more attention to detail and opened the door to human error. DronePan makes life much easier for users and many say they can't imagine going back to the manual technique. It makes the process of shooting a spherical panorama so simple that a pilot could do it with his eyes closed, but I recommend keeping your eyes on the aircraft at all times.
Today DronePan is used by commercial and recreational photographers as well as budding droners who simply want to make cool content with their drones.
Collaborative development
Building DronePan collaboratively was important for two reasons.
First, the constant flow of new hardware compatibility requires more bandwidth than the original team was and is capable of allocating. Second, building relationships with other developers who have a passion for autonomous flying code is exciting.
DJI continues to launch new hardware at a neck-snapping pace. The result of new drones hitting the market is a user base that frequently requests support for new hardware. DronePan belongs in the hands of all droners. For me, developing the app and participating in the community is incredibly educational and fun.
From the beginning, the user base has maintained a refreshingly positive tone, and users often help each other in this wild learning experience. The app itself could improve greatly from UI and UX contributions as is often is the case with open source projects.
I've been thrilled to see all of the amazing locations where people are using DronePan. DronePan user Phil Markevitz created an pano-tour above a volcano in Costa Rica. (Inside each panorama, you can click the blinking arrows to navigate to another panorama in that location.)
DronePan has many bugs to fix and the community has even more to do in the way of identifying bugs within the manufacturers' SDKs. I'm grateful that DronePan users are understanding and happy to discover and report bugs in a positive context. Seeing the global drone dev community unite and contribute to a more powerful drone photography experience is outstanding.
To get involved, there are few things you can do:
Most recently Preston served on the real estate acquisition team of a private equity group in Dallas, TX. In late 2015 he left the private equity world to focus on drone projects which include: TravelByDrone.com, DronePan App and a K-12 educational app/curriculum initiative called DroneBlocks. Preston comes from a commercial agriculture background in Hereford, Texas.

This work is licensed under a Creative Commons Attribution-Share Alike 4.0 International License.