Articles about how open source is helping solve human problems resonated with Opensource.com readers in 2017.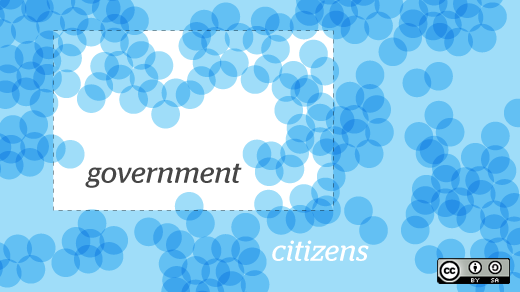 Each year, when we look back at the top government articles on Opensource.com, we see interesting case studies of government technology policies or implementations. Our most popular stories from 2017 aren't about adopting open source to solve technology problems. Instead, they demonstrate how governments and citizens are coming together through open source to solve human problems.
1. Why we need an open model to design and evaluate public policy
Dr. Audrey Lobo-Pulo's article kicked off 2017 with a thorough discussion on Government Open Source Models (GOSMs), which are used to design and evaluate public policy. Such GOSMs are "freely available to everyone to use, distribute, and modify without restrictions." Lobo-Pulo reminds us: "By opening the doors of policy evaluation to the community, governments can tap into new and undiscovered capabilities for creativity, innovation, and efficiency within the public sphere."
In this article, Nicole C. Engard reports on a presentation that White House senior advisor Alvand Salehi gave on the U.S. Federal Open Source Policy, which established Code.gov. This platform provides access to government-developed open source code and a way for other developers to participate in it. One of the examples cited was ANET (the Advisor Network), a project within the Department of Defense, written with user input, to help Afghanistan leaders rebuild their country by eliminating time spent retraining staff who rotate in and out of teams.
3. Open Labs leads 48-hour hackathon for good
The Open Labs Hackerspace in Tirana, Albania, organized its first-ever open source hackathon focused on the United Nations Sustainable Development Goals. As Justin W. Flory reports in this article, some of the two-day hackathon's goals include quality education, gender equality, job opportunities and economic growth, and clean energy. Tirana, the capital of Albania, is becoming a hotbed of open source activity. Shortly after the hackathon, the city migrated its private cloud to an open source solution, announced its open data portal (opendata.tirana.al), and began contributing GIS data to OpenStreetMap.
4. How open government is helping with hurricane relief
In this article, Daniel Rubinstein shares how open government principles—such as open data, collaboration between citizens and government, and transparency—improved safety and communications in the wake of Hurricanes Harvey and Maria.
5. US makes renewable energy software open source
The U.S. National Renewable Energy Lab (NREL) released all the source code for System Advisor Model (SAM), its most powerful renewable energy economic analysis software. The summary of this article by Dr. Joshua Pearce said, "Releasing the source code for the System Advisor Model means users can calculate renewable energy costs and performance for years to come."
6. Europe pledges support for open source government solutions
Author James Lovegrove says the European Union is recognizing open source software as a "key driver of government digital transformation." EU citizens are flocking to open source e-government platforms and electronic identification solutions, and the Tallinn Declaration on E-Government encourages all EU governments to default to open, with a focus on user-centric principles.
Outlook
In the early days, many governments adopted open source purely for economic value—as a cheaper alternative to proprietary software, an opportunity to reduce vendor lock-in, or a way to move away from ongoing license fees. But today, as we see in some of our top stories from 2017, the true value of open technologies is proving to be in the community. Governments are no longer merely consuming open source. Instead, they are actively engaging with their citizens and participating in open source communities to solve citizens' problems together. And that's a trend I hope to see more of in 2018.
Melanie Chernoff | As Public Policy Manager for Red Hat, Inc., Melanie monitors, evaluates, and works to influence U.S. and international legislation and government regulations affecting open source technologies and open standards. She also serves as chair of the company's Corporate Citizenship committee, coordinating Red Hat's charitable activities.

This work is licensed under a Creative Commons Attribution-Share Alike 4.0 International License.