Gain the most benefit from WordPress for educational purposes by mastering its many add-on features.
Once you have WordPress installed, you may be eager to see how you can use it in your school or classroom. As more schools switch to online classes during the COVID-19 pandemic, WordPress is a go-to content management system.
The features are limitless. Teachers and schools using WordPress can provide differentiated instruction for their students. You can write short stories and poems, and provide image galleries that function as story starters. Enabling students to write stories and poems is straightforward, and each student can create their own account so they have the ability to comment on the material you have shared (though student commenting can and should be moderated).
WordPress also comes with the ability to embed a great deal of content. Among the most popular are YouTube, Twitter, Instagram, Facebook, Imgur, TED, Soundcloud, and many more. With all of the visual storytelling capabilities available, content begs to be read! 
WordPress comes with a few default plugins, many of which though, you need to go find for yourself and implement based on your needs.
Akismet
Akismet is a GPLv2 plugin offering spam protection. According to the Akismet website, this plugin checks comments and contact forms against a global database of known spammers. Akismet is not free but has only a nominal price for personal blogs, and registration is required to get an API key so that it functions properly.
BadgeOS
Would you like to add some gamification to our classroom blog? With BadgeOS, users complete assignments and tasks and are awarded badges. BadgeOS is released under a GPLv3 license.
BuddyPress
If you want to create a social media site for your classroom, check out BuddyPress. Members of your WordPress site can register, create user profiles, have private conversations, make social connections, create and interact in groups, and much more. BuddyPress is a social network that can provide a home for your school or classroom. It is released under a GPLv2 license.
BuddyMeet
BuddyMeet is a BuddyPress plugin that uses Jitsi Meet to allow users to create virtual conference rooms with video and audio. It supports a room where all members of a group can meet each other, on-demand rooms among specifically invited group members, automatic customization of the room's subject, and the name and avatar of the participants. All of these parameters can be customized using the Jitsi Meet API, so if you have access to developers (or if you code), the sky is the limit. BuddyMeet is licensed with the GPLv2.
bbPress
The bbPress plugin enables you to invite users to create a classroom forum where participants can discuss topics of interest, such as class assignments, assigned reading, and book reviews. Forums can be a lot of added work, but you can designate individual students (or other users) as moderators of the forums to help you out. This might be a great way to give students agency and a sense of responsibility in their education.
It also comes with built-in support for Akismet and BuddyPress. bbPress is released under the GPLv2.
H5P
H5P is a great plugin if you intend to use your WordPress installation for instruction and assessment. This plugin allows you to create, share, and reuse interactive content on your site. One of the great features of the plugin is that it gives you access to lots of different interactive content. You can see some of the content types you can create in the figure below. The H5P plugin is released under an MIT license.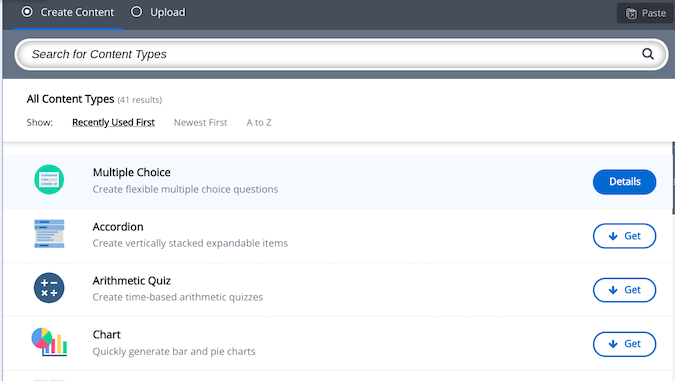 Jetpack
According to the developers, "Jetpack is your site's security detail, guarding you against brute-force attacks and unauthorized logins. Basic protection is always free, while premium plans add expanded backup and automated fixes." Jetpack includes Akismet. The plugin includes 100 free WordPress themes, brute force attack protection, unlimited image hosting, site statistics, and automated social media posting, among others. There are additional features that cost money. Jetpack is licensed GPLv2.
LearnPress
LearnPress is a plugin that enables you to create a robust curriculum management system with WordPress. You can create courses and content just as you might find on commercial learning management systems. LearnPress provides you with the ability to create courses, lessons, and quizzes, and it provides statistics on how your materials are utilized. LearnPress is free and licensed under the GPLv2. There is an optional LearnPress plugin that supports a grade book.
Plugins for everything
There are thousands of WordPress plugins. Which ones are your favorite for education? Be sure to let us know in the comments.
Educator, entrepreneur, open source advocate, life long learner, Python teacher. M.A. in Educational Psychology, M.S. Ed. in Educational Leadership, Linux system administrator.

This work is licensed under a Creative Commons Attribution-Share Alike 4.0 International License.