A community manager is like a quarterback, ensuring things run smoothly and everyone on the team has the chance to grow.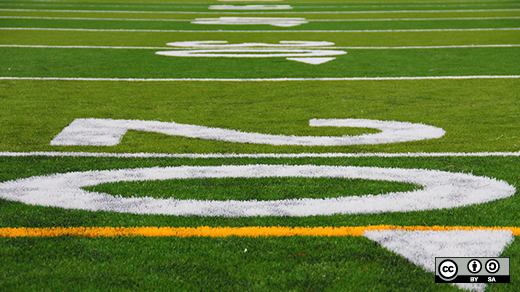 A community manager is the quarterback of an open source community. This is the person who ensures that everything runs smoothly, the one who helps the community and all its members grow. Every thriving community needs one.
While the specific skills and expertise a community manager needs depend on the community itself—after all, every community is unique—there are a handful of core qualities you'll see in any outstanding community manager.
Here are five of them.
1. A natural drive toward communities
Many careers require a person to have an inherent drive to be really successful, and community managers are no exception.
The difference between a good community manager and an outstanding one is their attraction toward communities—an innate, natural desire to make communities successful.
Outstanding community managers enjoy working with people and feel validated by the success of the community they manage—whether it's a community of users, customers, contributors, or partners. They are motivated to continuously seek ways to make their communities better and build strong relationships with all stakeholders.
As anyone who has worked as a community manager knows, the role can be challenging. There are times when things spiral out of control, and a situation devolves into utter chaos. Because they are passionate about communities, outstanding community managers are able to seamlessly navigate these kinds of challenges and build a stronger community as a result.
2. Willingness to learn
An outstanding community manager has a small ego and grows with the community. Most importantly, they understand that community members are imperfect, just like they are. To this end, they learn from mistakes and failures, iterate, and work to continuously improve the experience of the community.
Community members are in many different stages and learning modes; they may be seeking knowledge about navigating different community forums, the codebase, a new programming language, or countless other things. In the same way, the community manager should be in a continuous learning mode with the members of their community. This willingness to learn and continuously improve accelerates community growth.
Having worked with open source communities for more than five years now, I sometimes like to think I have a good sense of how to build and grow a thriving community. But I regularly realize how much more there is to learn. It's something that motivates me and keeps me energized about the open source space after all these years.
3. Versatility
As the community's quarterback, the community manager is responsible for many things, such as:
Moderating, engaging, and supporting users in forums including Discourse, GitHub, and Reddit
Celebrating community successes, sending swag, and recognizing top contributors
Creating and managing new community programs
Organizing meetups, events, and other engagements
Coordinating with other departments—such as product, engineering, and content marketing—to support community initiatives
These activities require someone with an ability to wear multiple hats throughout each day. Outstanding community managers are highly versatile. They are owners who stay on top of everything that's going on in their community.
4. Results-oriented
Being results-oriented is pivotal to the success of the community.
There's a lot of action in thriving open source communities. Since a community manager needs to wear multiple hats throughout the day, great community managers immediately recognize the highest-impact activities and laser-focus on them.
They are also resourceful and do not wait to take action. With a proactive mindset, they overcome obstacles when they happen—or even before they happen!—and participate actively with other departments and the community to create solutions that deliver high-impact results to the entire community.
5. Domain experience
The final key quality of a community manager is domain experience. Have they used the product or been in the community for a long time? Do they understand open source (if they are an open source community manager), and does their technical aptitude align with the community's? Are they familiar with the industry the product operates in?
More domain experience will lower the learning curve, making it easier to become an outstanding community manager—particularly in an open source community.
As a side note, domain experience should not be the primary evaluation factor for hiring a community manager; this is something that can be learned, whereas many of the other key qualities cannot.
That said, having deep domain experience gives a person an edge to immediately bring value to their community.
What else?
These five qualities—a natural drive towards communities, willingness to learn, versatility, results-orientation, and domain experience—are key attributes of an outstanding open source community manager.
In fact, this is the exact criteria Mattermost is using to guide our search for our first community manager.
Are there any qualities that you feel are missing from this list? Let me know in the comments!
Thank you to Justin Reynolds for the valuable edits on this article.
Jason is a Lead Product Manager at Mattermost where he is growing a community of contributors and users around the project. He is passionate about open source and has been in the space since 2015. Connect with him on Twitter at @jasonblais.

This work is licensed under a Creative Commons Attribution-Share Alike 4.0 International License.