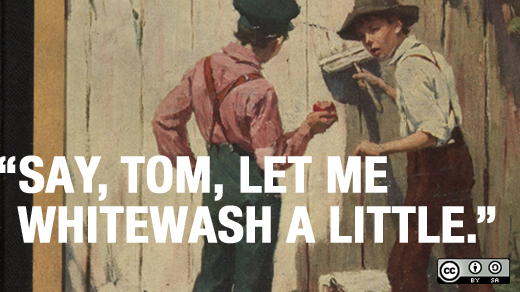 I spoke on a panel at GE today with Chris Brogan, author of the book Trust Agents.
After hearing Chris talk about building trust in online communities, it hit me that one of the biggest mistakes I've seen people make when trying to build communities online, even in the open source world, is that they think like Tom Sawyer.
Here's how Wikipedia retells the story of Tom Sawyer and the fence:
After playing hooky from school on Friday and dirtying his clothes in a fight, Tom is made to whitewash the fence as punishment on Saturday. At first, Tom is disappointed by having to forfeit his day off. However, he soon cleverly persuades his friends to trade him small treasures for the privilege of doing his work.
When thinking about building communities online, are you thinking like Tom Sawyer? Why are you building a community in the first place? When it comes right down to it, do you really just want people to whitewash your fence for you and give you small treasures in return for the privilege?
If you are looking to ideas like open source or social media as simple means to get what you want for your company, it's time to rethink your community strategy.
I've talked to people at companies who are considering "open sourcing" their product because they think there is an army of people out there who will jump at the chance to build their products for them. Many of these people go on to learn tough but valuable lessons in building community. It's not that simple.
You can avoid the Tom Sawyer trap through some exercises in humility. A couple of questions for you: Why does it have to be your community and why do you have to build it? Do people have to come participate in your community, or might you consider joining their community?
When we crafted the new Red Hat Mission (watch the video below to learn more about it or read this post), we considered the wording around community very carefully. Here's how it reads:
To be the catalyst in communities of customers, contributors, and partners creating better technology the open source way.
Note that we don't ever claim we own the communities. And we don't take credit for creating them. In most cases we didn't. We just want to be in them (in being the key word), and we want to use our brand, our experience, our people, and our resources to be a catalyst in these communities... a catalyst for good work we (and our customers and partners) want to see done.
We participate, bringing the resources of a successful open source business, and stuff happens. Who cares who "owns" the community when everyone gets what they want?
Avoid the Tom Sawyer trap. Your customers are not as gullible as Tom's friends were, and they won't trust your motives unless they see what is in it for them as (or more) clearly than they see what's in it for you.
Rather than asking how they can paint your fence for you, ask yourself how can we all paint everyone's fences together?
You'll change everything if you take yourself out of the center of the community and instead become a humble contributor to a community where everyone, including you, will benefit from your efforts.
This article originally appeared on Dark Matter Matters.
Chris Grams is the Head of Marketing at Tidelift and author of The Ad-Free Brand: Secrets to Building Successful Brands in a Digital World. Twitter LinkedIn Email: chris(at)tidelift.com

This work is licensed under a Creative Commons Attribution-Share Alike 3.0 Unported License.