Thanks to everyone who voted for a People's Choice Award winner last week! Looking at the votes took some time due to a few folks who appear to have been dedicated enough to set up vote-bots. We appreciate your enthusiasm, but our authors are champs on their own, no additional help needed. But now that the votes are all in, we're pleased to announce that this year's winner is David Doria, who wrote several stories for our Education channel last year.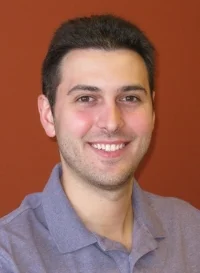 David Doria is working toward his Ph.D. in electrical engineering at Rensselaer Polytechnic Institute, specifically in the field of computer vision and image processing. His research deals with 3D data analysis, particularly from LiDAR scanners. His opensource.com posts include:
The role of technical forums in the progress of open source
I am a huge advocate of the concept of open source software. As a society, we are at a point where information sharing is more critical than ever. Technical forums support the mission of open source in multiple ways. Read more
Improving the speed and quality of research via shared algorithm implementations
The dissemination of ideas throughout a research field is absolutely critical. For example, recent algorithms have become quite complex and ideas are tightly coupled to their implementations. The ability to share and obtain these implementations quickly is crucial to the future success of many fields. My message is easily summarized - doing your part to enable the maximum potential of future research is as easy as sharing your code. Read more
How to: Founding an open source software center at a university
Raising open source awareness in any organization is a very important, and sometimes difficult, task. Particularly important is open source awareness among college students. These are the engineers and computer scientists of the next generation who will be able to usher these modern practices into their workplace. This article discusses the process that was used to form the Rensselaer Center for Open Source (RCOS), a very successful open source center at Rensselaer Polytechnic Institute (RPI). Read more
In a very, very close second place was Abhi Nemani, the Director of Strategy and Communications at Code for America. He has worked closely with technology firms, political organizations, and local governments, leveraging technology to grow their impact, including the Rose Institute, Center for American Progress, and Google.
Abhi wrote several articles for our Government channel last year, including:
Building a Civic Commons
Civic Commons is a new non-profit initiative that's dedicated to helping government embrace the transformative potential of shared technologies and collaborative development techniques that have been pioneered and proven in the private sector. Read more
Federal IT Dashboard goes open source
Today, we're excited to announce that our Civic Commons team, working with the White House and the Federal CIO, has made the cost-saving IT Dashboard, the technology behind IT.USAspending.gov, freely available for any government entity to use and customize. This development is the latest in a growing movement to cut government IT spending by sharing reusable technology, thereby reducing redundant development costs and encouraging cooperation between multiple branches and levels of government. Read more
Congratulations to David and Abhi. And thank you to both of you, as well as all of our nominees and every contributor. Opensource.com not only exists because of you; it is better because of each of your contributions.
Ruth Suehle is the community leadership manager for Red Hat's Open Source and Standards team. She's co-author of Raspberry Pi Hacks (O'Reilly, December 2013) and a senior editor at GeekMom, a site for those who find their joy in both geekery and parenting.

This work is licensed under a Creative Commons Attribution-Share Alike 3.0 Unported License.