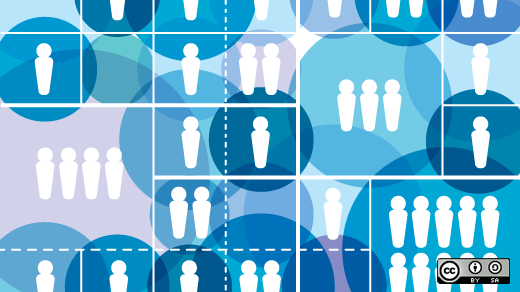 This year's keynote speaker at the annual All Things Open conference is Red Hat's DeLisa Alexander, executive VP and head of Red Hat's human resources operations. DeLisa is not only in a professional position to comment on gender and diversity in open source and tech but has also personally campaigned for inclusiveness in the workplace to produce better outcomes for everybody.
DeLisa will also be moderating a panel on women in technology and open source at the conference.
In this interview we discuss how she came to work in open source, what companies can do to improve inclusiveness, and why gender diversity benefits everyone, not just women.
How did you come to work for Red Hat? Did you have much experience with open source beforehand?
My background is in law, and I joined Red Hat in 2001 as an assistant general counsel with our Legal team. I was hired to negotiate licenses and revenue deals, serving as a consultant and adviser to our business teams. I didn't know much about open source, but was intrigued by the idea of using copyright law to enforce sharing of code. It was the early stages of business development around open source, and we were figuring it out as we went along. Red Hat has always been a company with a strong sense of shared purpose and a unique culture, and that appealed to me from the very beginning. I feel fortunate to have joined Red Hat in those early years, because my position gave me a front-row seat to watch and contribute as open source evolved into a revolutionary force and ultimately something that most now consider mainstream.
You've been very vocal about using your elevated position to help other women in tech. What have been some of your major successes so far?
I've been so pleased with the momentum that's building around this topic. A few years ago at Red Hat, we launched a Women's Leadership Community. We wanted to connect women within our company, offer educational and networking opportunities, and ultimately, better support each other at every stage of our careers and lives. We started with a North America chapter and since then, the Women's Leadership Community has grown globally. One big win for the Women's Leadership Community at Red Hat has been bringing together women from different departments, from the corporate functions to women in engineering and sales. At our Women's Leadership Community events, you meet people from beyond your own team. We also post interesting articles and spark conversations on our global email list. These discussions show us how much we have in common, whether you work remotely or in an office, whether your team has more men or more women, whether you're in the United States or India. I'm also proud that Red Hat launched the Women in Open Source Award, which goes beyond helping women in technology. It's dedicated to bringing more women into open source and shining a spotlight on their contributions. Nominations open on October 13, and we're so excited to announce our first winner next June at the Red Hat Summit.
Do you think open source is more or less a welcoming environment for women? I've heard arguments on both sides, so I'm interested to hear your point of view as both a human resources leader and a woman in tech.
That depends greatly on the environment a particular open source community fosters. We've seen some great examples of open source communities that are welcoming to women and outreach efforts that inspire more women to get involved. The work of groups like Ada Initiative, the Outreach Program for Women, and OpenHatch speaks volumes about the potential of open source communities to be empowering places for women. But there are stories of the opposite as well. What I think gives women a great opportunity in open source is that most open source communities greatly value personal freedom and meritocracy. On a community's best days, these elements create a highly innovative, productive environment that's inspiring to be a part of and renders projects immune to many of the daily challenges and frustrations that plague bureaucratic organizations.

Why do you think that tech companies, including Red Hat, struggle with diversity? What are some of the things Red Hat is doing to address the gender imbalance?
Fundamentally, it's a problem in the pipeline. If you look at the United States, for example, things were going pretty well for women in technology up until the mid 1980s. They were steadily earning a bigger share of the computer and information science degrees each year, peaking at 37% in 1984. That number has been declining ever since. Last year, women earned just 12% of all U.S. computer and information science degrees. Meanwhile, women's share of bachelor's degrees overall continues to rise every year, and we're not seeing the same kind of downward trend in many other sciences. To improve our numbers, we need to see industry-wide investments in technology education. Not just for technology literacy, but also for technology creation. We know that this is needed for women worldwide, and it's also important for students from economically disadvantaged backgrounds. It's here that Red Hat sees a real advantage for open source: as an alternative path to the technology industry for individuals who do not have a computer science degree or a background in tech. There's a fairly low barrier to entry; anyone who is interested in coding can become an open source contributor. You quickly learn from the feedback you get, gain experience, and can figure out whether you like working with technology, without having to spend years in school just to get started. As such, Red Hat sponsors many newbie hackathons and coding workshops, particularly with groups that target women.
To what extent do you think company culture impacts the gender divide? What about open source community culture?
The culture and environment in an open source community makes a big difference, and the same is true for company cultures. A lot has been written about this issue elsewhere, and you can find some great examples of how this happens on the Geek Feminism Wiki FLOSS webpage. In open source communities and at Red Hat, there's a strong desire for meritocracy—letting the best ideas win, regardless of their source. But diversity is a crucial component of meritocracy. How can we be confident that we have access to the very best ideas, if we are missing the perspectives of distinct groups of the population? Including people from many different backgrounds and cultures leads to greater diversity of thought and ideas. Research indicates that diverse groups are more innovative and make better decisions. For the technology industry and for open source communities, the lack of women is particularly concerning, because women represent half of the global population and workforce. In the past few years, I've also become increasingly interested in the role of unconscious bias and how it impacts the job application and interview process. Our human tendency is to instinctively prefer and value people who send unconscious signals that they're one of us—that they share our beliefs, background, or other social interests. It's easy for us to overlook the contributions of someone who comes from a different gender or culture. We don't even realize that we're doing it, and we construct explanations for our preferences that seem rational. Unconscious bias is a fascinating topic, and plenty has been written about it, so I encourage everyone to seek out that information and put it to good use. It's something that Red Hat now educates our associates on, as part of our job interviewer training. I think it's equally relevant when it comes to cultural norms within open source communities.
You're delivering the keynote speech for All Things Open this year. Can you give us an idea of what you'll be covering?
I will be speaking on many of the same topics that you've asked about today: women in open source and technology, and what the research shows us about the value of diversity for organizations. I plan to share some ways that anyone can make a difference and help bring more women into open source.
See the full series of All Things Open 2014 speaker interviews.
Tech writer; reader of fantasy novels, eater of peanut butter flavoured things.

This work is licensed under a Creative Commons Attribution-Share Alike 4.0 International License.