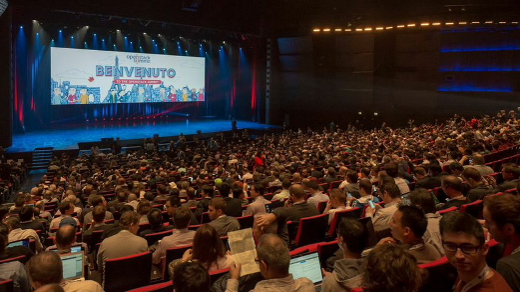 The 2015 OpenStack Summit in Vancouver, British Columbia is just a few short weeks away. The event will run for a full week from May 18 through May 22. Opensource.com will be attending and helping connect you to some of the sessions and what's new in the open source cloud ecosystem. Whether you're planning on attending in person, or just curious about what's happening, we've assembled a few resources we hope you'll find valuable.
Sessions/events guide
OpenStack Summit features a whopper of an agenda. A quick glance at just the official events shows almost 400 sessions and activities happening; attendees will frequently have to choose between ten or more possible choices to attend at any given time. So how do you make the most of your time? Fortunately, the agenda is broken into a number of different tracks in order to make those choices a little bit easier.
Here's a sample of what you can look forward to. The official schedule hosts even more tracks.
Cloud Applications: Everything you need to know to begin building applications for the cloud, and how to take advantage of elasticity to make your applications scale.
Cloud Security: From access control policy to intrusion detection to avoid cyber attacks, learn how to keep your OpenStack cloud safe.
Cloudfunding: OpenStack startups have had their ups and downs. Get some tips for how to make yours successful.
Community: From local user groups to global chatrooms, the OpenStack community is being built in a place that's accessible to you. Learn how you can get involved.
Hands-on Labs: When it comes to learning new OpenStack skills, nothing beats trying it our yourself in a guided environment.
How to Contribute: From making the first commit to becoming a regular contributor, this track is all about upstream development.
Storage: Whether you're looking at block storage, object storage, or something else, there's undoubtedly a storage session which will help answer your questions.
Telco Strategies: Software Defined Networking and Network Functions Virtualization were undoubtedly some of the most popular topics at the last OpenStack Summit in Paris, and interest has only grown since.
Social guide
To keep track of what's going on at the Summit, there is a large presence of OpenStack community members on Twitter. First, follow @opensourceway and @OpenStack for up-to-the-minute information and highlights. Second, choose some folks from our list of OpenStack tweeters. Finally, be sure to follow hashtag #OpenStack!
Reading guide
For a sneak peek at some of the talks prior to the Summit, Opensource.com is publishing a speaker interview series with session and keynote speakers that asks tons them tons of good questions you won't get access to even in person. New interviews are added as they are published, so bookmark the landing page.
Want to be featured on the series? If you are speaking at OpenStack Summit, have a demo of an open source project at your booth, or want to interview a speaker? Get in touch with us.
See all of the articles we've published in the archives on OpenStack. These five are at the top of the list, including our coverage of the recent OpenStack Live event in Santa Clara, CA last month.
Jason was an Opensource.com staff member and Red Hatter from 2013 to 2022. This profile contains his work-related articles from that time. Other contributions can be found on his personal account.

This work is licensed under a Creative Commons Attribution-Share Alike 4.0 International License.