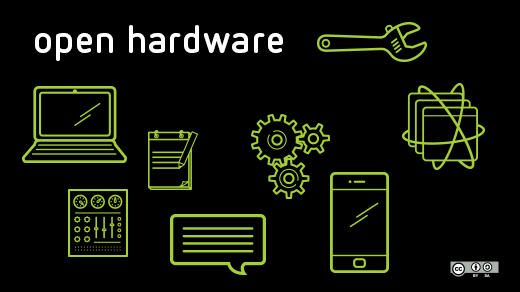 While recently demonstrating a prototype to a family member I was asked, "Are you going to patent that?" While happy to see such enthusiasm, I tactfully declared that I couldn't seek a patent, as it was built using open source components. This perplexed my family member who, being from a generation or two (or three) before me, thought that is how "inventing things works." So, I did my best to explain the seemingly "hippie-ish" concepts of open source, copyleft, and Creative Commons licenses to someone from America's Greatest Generation with little success.
In the end, we simply agreed to disagree on the issues of patents and capitalist pursuit.
For many makers today, finding a product idea that is feasible to manufacture, as well as desirable by would-be consumers, is a lesson in design by trial-and-error. That means a lot of blood, sweat, tears, time (and money) invested in a project that many hopes are poured into. So, if you're using open hardware or software and hoping to transform your side project into a commercial product, how do you protect your product from being ripped off by a competitor?
I have been examining a lot of new development (dev) boards lately that are geared towards "the professional hobbyist" or small-scale developer market segment. Some new dev boards are "protected" by a Creative Commons license, while others are protected by more traditional licensing agreements. Some have a unique hybrid-licensing model in which the hardware design might be open sourced but certain aspects, such as software protocol stacks, are proprietary. Technology and ease-of-use issues aside, experimenting with these different boards have been enlightening as to why some platforms have gained widespread adoption and adoration, and others not so much.
In my humble opinion, it comes down to four key points:
Reasonable price point
Easy-to-understand licensing
Nurturing of a vocal and enthusiastic community
Passion of the developer
Reasonable price point
Embedded platform costs have dropped rapidly in the past decade. Open source software design tools have increasingly grown in parity with their commercial counterparts.
Check out the free MultiSim Blue design tool from NI and Mouser. Electronics parts distributors will now sell you 1 resistor or 10,000. Take all of this and couple it with emerging manufacturing techniques such as 3D printing and the recently Kickstarted PCB printer Voltera; the "final mile" costs of prototyping and low-scale manufacturing is at an all-time low.
As such, makers of embedded platforms who do sell in relatively large volumes (such Arduino, BeagleBone, etc.) can sell products at reasonable per-unit prices while still making enough profit that they can continue to invest in R&D for new products. Platforms are cheap enough now that people are willing to experiment with them (and potentially fry them!) I speak from personal experience; not worrying about losing a small fortune on a development board makes me more likely to use it.
Easy to understand licensing
In my opinion, the most important aspect of the four factors is to have licensing that can be understood without the need for legal counsel. Licensing usually means additional cost as well. Paying licensing fees when you are a start-up is a deal-breaker. That is money you could otherwise put into buying tools, materials, or marketing. Furthermore, should a product I design ever take off, I don't want to waste resources having to negotiate licensing agreements when I go into production. However, going the open source route does pose certain risks. Your design could very well be copied and knock-offs could flood the market. But by using an open source licensing strategy, you are taking the first step in building a community. A passionate and engaged community is your best safeguard against a sea of knock-off products from eroding your profits. Which leads us to the third factor in the success of open source projects.
Nurturing a vocal and enthusiastic community
A passionate and vocal community is the pinnacle of brand loyalty. When people feel a certain level of ownership in a product, they become loyal to that product. Even if a cheaper, knock-off competitor emerges, if there is a solid community, open source hardware (OSHW) creators still thrive. Building a community requires a savvy and genuine online presence, with discussion forums that encourage active participation between customers.
Using crowdfunding sites like Indiegogo and Kickstarter is a great way to build a community and capital at the same time. People are very loyal when it's their money being invested!
Communities can also serve to augment your business functions. Successful communities will help an OSHW developer write documentation, find bugs, write software libraries, and provide tech support to other customers. They don't do it for money either; rather they do it because of the human need for community and recognition in that community. Chances are that this will give you way better results than paying an employee to perform those same business functions. There is a key ingredient to sparking an engaged community... and, that leads us to the final factor of OSHW product success.
Passion of the developer
Growing and sustaining the community falls back on founders of an OSHW project. While not unique to OSHW, people in general respond positively to people they perceive to be honest and passionate. Passionate developers will stick with a product through thick and thin. They will innovate much faster than large corporations, and the products will be much better quality than the knock-off manufacturers. The community will respond to this by pledging their loyalty. It's why I advocate that open source hardware developers should prefer to be seen as Original Innovation Makers (OIM) rather than Original Equipment Manufacturers (OEM).
In short, if you don't display passion for your product, don't expect customers to show much passion either.
All together now
No doubt that the technical aspects of an OSHW product are key. Simply being passionate and labeling your project "open source" isn't enough if your hardware is not exciting. Having decent technical specifications and solid build quality is no doubt crucial. Conversely, technical aspects alone can't carry a product that does not embrace the four factors discussed above. As engineers and entrepreneurs we can lose sight of the other factors and put too much focus on the technical aspects of a product. Balance is the key.
 
What are your thoughts? What makes certain embedded platforms succeed and others not so much?
Originally posted on Mouser Electronics blog. Reposted under Creative Commons.
Michael Parks, P.E. is the owner of Green Shoe Garage, a custom electronics design studio and technology consultancy located in Southern Maryland. He produces the "S.T.E.A.M. Power Podcast" to help raise public awareness of technical and scientific matters; as well the "Gears of Resistance" podcast which advocates for the Maker Movement and various Open Source initiatives.

This work is licensed under a Creative Commons Attribution-Share Alike 4.0 International License.