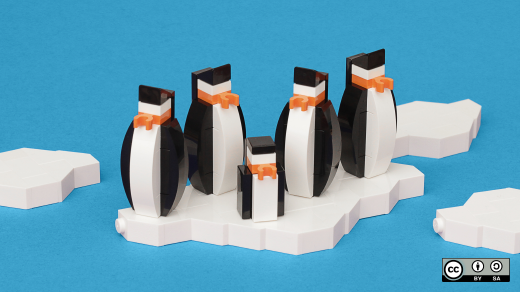 Stu Keroff will be speaking at All Things Open in Raleigh this year. 
The Community School of Excellence (CSE) Asian Penguins are the world's first and only Linux user group based in a Hmong charter school. A failed Windows laptop program at the school was turned by the Asian Penguins into a Linux success.
Stu Keroff is the technology coordinator at the Community School of Excellence, a middle school located in St. Paul, Minnesota. He is a licensed elementary education and middle school social studies teacher, and a long-time Linux enthusiast. Stu founded and advises the Asian Penguins.
How does an elementary school and middle school social studies teacher get started with Linux?
"I first heard of Linux in the late 1990s, but didn't get a computer and try it myself until 2005," he said. Stu experimented with different Linux distributions, and was intrigued with how much he could do without a proprietary operating system. At a previous school he was given a couple of computers for his classroom, and found that having two computers was not enough. A friend gave him a couple of computers which had Linux installed on them so that he could get more students on the computers. He changed jobs, and brought his interest in Linux to the Community School of Excellence.
What was the genesis of the Asian Penguins?
In 2011 the Community School of Excellence launched its 1:1 program, which supplied each student with their own with Windows 7 laptop. Inadequate staff development and logistical problems hampered the initiative. Stu said, "We encountered a lot of problems with students breaking their laptops, losing their laptops or just not taking care of them properly. This became a major issue when trying to use technology in the classroom when 25% of the students were missing their laptops. At that point I began to wonder what I could do change the dynamic." Stu applied for a grant from FreeGeek Twin Cities, and received four desktop PCs for his classroom.
The children's curiosity was piqued by the Linux operating systems installed on those computers, and began congregating in Stu's classroom while they were waiting for an after-school program to start. So he gave the students some lessons on the Linux computers, and from this nascent moment came the CSE Asian Penguins. Students learned how to install the operating system, and the program expanded every year.
How did the Asian Penguins and Linux change the school culture?
"Having Linux here at school has made computing cool. Typically, when you mention Linux in the outside world you have a smaller group of people interested, but here at school we have this group that learned how to install and use Linux, apply that knowledge here at school, and then use that same knowledge to help the community as a whole. As a result we have a waiting list of students that want to be in our club," he said.
This year they were going to cap their membership in the Asian Penguins club at 35, but they had 62 students apply, so they decided to expand the program by creating a Junior Varsity squad (6th grade), and a Varsity squad (7th and 8th grade).
How did "Operation Upgrade" help the school and the students grow?
"Operation upgrade was a project that took place in 2015, and it came at the end of the school's 1:1 program which had not been as successful as originally envisioned. Lots of the Windows laptops were in very poor condition and needed to be replaced," he said.
Stu's class had already switched the computers on the laptop cart assigned to his room to Linux. He wondered if he and his students could raise enough money to replace the computers on their own laptop cart, so they launched an Indiegogo campaign. This was so successful that they raised more money than they needed, and they also received a donation of laptops which upgraded two laptop carts. As a result the entire second floor in the CSE middle school is using Linux.
They received more donated laptops, and by the end of the school year had outfitted a third Linux laptop cart. That cart was used by the teachers in music, art and physical education. Then during the summer they received additional donated laptops for a fourth cart. Their success moved the school to add money to their budget and upgrade two more carts. Thus "Operation Upgrade" was a "win-win-win" for the Penguins and the school system.
What advantages accrue from student empowerment and the use of open source software?
"When you're using open source software you're free to use operating systems and application software without the hassle of license keys or license tracking inherent with proprietary software. This allows a school to experiment. It also gives them the freedom to make mistakes. If you see an installation is messed up, then no problem, just do it again. By empowering the students to be part of that process we were able to get more done, and to generate more excitement about the learning that the students were taking part in."
What resources or experience would you suggest for other schools thinking of following in your footsteps?
"You will need a teacher willing to step up to the plate and supervise." He thinks that the resources a school needs will be minimal, and it is likely that local businesses will donate outdated computers as part of their upgrade process. Generate excitement by making the students a major part of the process. Emphasize that this program is about helping families in the school system as well.
The goal of the Asian Penguins this year is to plant another Linux club at another school, and they are in discussions with education professionals at other schools. Stu is presenting his work with the Asian Penguins at the Minnesota State Teachers Convention in October, where he hopes to find some interest among other education professionals.
Educator, entrepreneur, open source advocate, life long learner, Python teacher. M.A. in Educational Psychology, M.S. Ed. in Educational Leadership, Linux system administrator.

This work is licensed under a Creative Commons Attribution-Share Alike 4.0 International License.