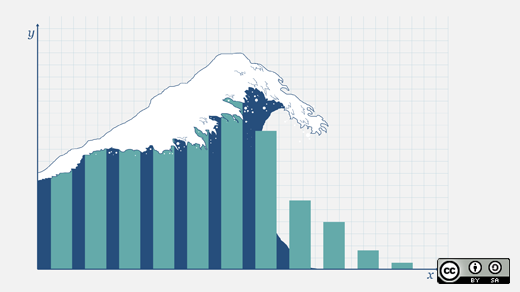 Every week, I tally the numbers and listen to the buzz to bring you the best of last week's open source news and stories on Opensource.com.
Top 5 articles of the week
#5. Does open source boost mental health?
Phil Shapiro ponders the question of what participating in open source communities and projects can do for one's happiness. He points to mood boosting activities, like sharing and tinkering to explain that from where he sits open source creates more hopeful and resilient minds.
#4. Optimize your Linux rig for top-notch writing
Steven Ovadia shares an article from his blog, My Linux Rig. He interviews Scott Nesbitt, a tech writer living in New Zealand, about how he's set up his Linux environment to be condusive to writing. We know Scott well at Opensource.com. He's a frequent writer and one of our Community Moderators. He'll be sharing his reviews of open source tools in upcoming articles, so stay tuned for that.
#3. An introduction to Apache Hadoop for big data
Sachin gives us background on Apache Hadoop, an open source project many developers are familiar with these days. Hadoop has been growing in popularity since it's creation in 2005 by Doug Cutting and Mike Cafarella. If all you know about Hadoop is it's yellow elephant mascot (and that it was inspired Cutting's son's stuff animal), check out this introduction.
#2. Shortlist of open source software used at NASA lab
Lauren Egts appears on my top 5 again this week with her interview with Herb Schilling, who is a computer scientist at the graphics and visualization lab at NASA. Lauren interned there this summer for three weeks, spending some of her time on a proof-of-concept project called the PiWall. It's a video power wall, driven by Raspberry Pi computers.
#1. What happens when a non-coder tries to learn Linux
It's a little weird to be reporting that my article is #1 in my list this week, but it couldn't be avoided! I'm proud to say that my article hit it big with readers. I wrote about why I'm taking edX's course, Introduction to Linux, what it means to me to learn Linux, and what the course is like. I'm almost halwalf way through and will be installing Linux on one of my computers soon. I'll be writing about that next.
Thanks for your comments and for sharing! See ya next week.
Jen leads a team of community managers for the Digital Communities team at Red Hat. She lives in Raleigh with her husband and daughters, June and Jewel.

This work is licensed under a Creative Commons Attribution-Share Alike 4.0 International License.