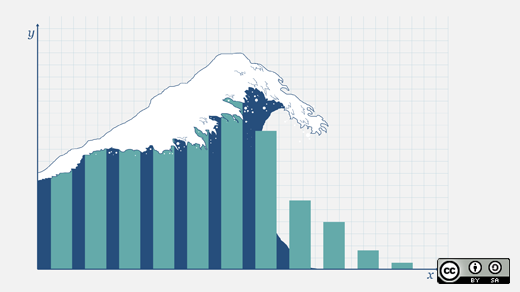 Aseem Sharma got his first major exposure to open source in a large scale enterprise setting. Aseem is a great guy to ask about how to use open source software to learn and conduct research, too, as a frequent user of open source for scholarly work.
At Opensource.com, Aseem has recently joined the Community Moderator program. He writes mostly about the impact of open source on teaching and learning, from bridging the digital divide to the open source way in higher education. You'll also frequently find him in the comments section adding to our community discussions.
Outside of work and learning, Aseem uses a variety of open source applications as a part of his everyday productivity. Learn more about how Aseem uses these tools in his life in this Community Spotlight interview.
The Basics
Name: Aseem Sharma
Opensource.com username: Aseem Sharma
Location: Brampton, Ontario, Canada
Occupation/Employer/Position: Consultant for RockIMS.com; Community Moderator for Opensource.com, contributor to the open source community; recent graduate of the Conrad Business, Entrepreneurship and Technology Center, Faculty of Engineering at the University of Waterloo
Open source connection: passion, conviction, experience
Favorite open source tool or application: Linux (RHEL, Fedora), Zotero, WordPress
Favorite opensource.com channel: education
Open up to us.
I am a recent graduate of the Masters in Business, Entrepreneurship and Technology program at the University of Waterloo in Canada. I also hold a masters in computer applications from the Guru Nanak Dev University in India.

I started playing around with Linux during my student life days back in India, but my first major and formal exposure with open source technology at a large scale was at Bank of America Merrill Lynch. Like any other big financial organization, the massive infrastructure of this bank relied on RHEL (Red Hat Enterprise Linux). Linux provided autonomy to explore internals of a system, access source code, and implement tasks both on enterprise level servers and my personal laptop without any licensing barriers. This experience with Linux was further enhanced during my stint with Citibank in Singapore. Working closely with some of the best Linux experts at Citi further deepened my understanding of and grip on this technology.
Mission critical and real time applications with high complexity developed in TIBCO used to run seamlessly on servers powered by Linux. Deployment of applications and implementation of patches on systems with real time financial impact was done smoothly through scripts developed in the Linux ecosystem. Apart from that, a lot of day to day tasks, which are critical in nature from server stability point of view like file management, log management, automated checks on disk spaces, monitoring of Enterprise messaging service queues, and monitoring of processes are done productively using Linux. To maintain an infrastructure of a massive scale while hosting client applications, requires high quality, efficient, and low cost solutions that have ability to scale up as the infrastructure expands. Linux offers that solution.

Getting involved and experiencing how the open source technologies had a profound impact on businesses further opened doors to possibilities of experiencing the same impact the open source has on social sector and startups. These professional engagements also created a curiosity to get involved in open source initiatives that have a major impact on the way world works. This was encouraging enough to get me involved in Opensource.com, where I started researching and publishing insights from my professional and personal experiences with open source software and its methodology. Last month, I joined the leadership team of Community Moderators at Opensource.com that further adds to my responsibility to disseminate open source culture across all segments.

As an earnest student of the open source world, exploring how open source strategy and products are implemented beyond large enterprises, especially in small to mid-sized firms and the government sector, is vital to gain a strong foothold in the area. Knowledge (through experiential learning) about all the dimensions of open source in various settings is a prerequisite to develop and suggest better models and frameworks that improve the current state of affairs. One of the steps in this direction was getting involved with RockIMS.com, a website development firm, and work with them to develop their open source strategy and suggest open source solutions. In that direction, the article I am currently writing discusses open source for small businesses. It leverages on the insights gained both from my current engagement with RockIMS.com, interaction with people associated with startups in Canada, and previously published material on this relevant topic.
What open tools and data help you get things done, and how do they help you?
I use Zotero for organizing, citing, and sharing sources on the web. As a writer, I experience the benefits Zotero offers in terms of managing citations and bibliographies neatly. Other feature I like about Zotero is that it synchronizes my data, that is: notes, tags, links, and more, between my laptop and the Zotero servers.

Apart from Zotero, I use WordPress as a CMS (content management system) for my self-publishing needs. My personal blog, aseemsharma.info is powered by WordPress. Another open source application that I use extensively is the Directory of Open Access Journal (DOAJ). It embodies the true principles of open source software of creating, using, distributing study, making changes, and improving it. Access to the scholarly articles and research studies conducted by the experts through the DOAJ provides necessary tools and knowledge to contribute to the open source projects. If one has to change the way business thinks about open source, it is vital to first study the current process of thinking reflected in existing research.

Next to that, I use LibreOffice, Mozilla Thunderbird, PDFCreator, and GIMP regularly for some day to day tasks. Very recently, I have started exploring Python Beautiful Soup to scrape data from the Web, primarily Wikipedia. At RockIMS.com, we heavily use Apache/MySQL/PHP stack which forms the basis of WordPress.
What do you wish were more open?
Education and academic research should be more open. The current education system, especially in India, is restrictive, puts
students into boxes and captures them into silos from where they usually do not escape throughout their lives. That needs to be transformed into a collaborative and an inclusive system in terms of both technology and people. The education system needs to inspire original thought instead of restrictive thinking based on limited experiences and observations. It also needs to be more inclusive, and open source offers a strong solution to the problem.

I strongly believe that academic research is extremely critical for human progress. Historically, open access to this research has resulted in creating better systems and providing better solutions relative to systems and processes created through closed research. Traditionally, journals were sold on a subscription basis and was part of the closed research. This meant that only the researchers in that institution were able to access the research. Now, with open research, the visibility and impact of the study increases phenomenally. That, in a way, also helps the government sector make quick decisions on where to spend public money.
What are the biggest challenges to openness that you encounter, either at work or in your life?
The fear to be open is the biggest challenge that businesses and individuals encounter. It boils down to the mindset: "Why would I share my work with someone?" or "What benefits/risks would I achieve/face if I open up to the community." To overcome this mindset requires diligence and practice. It necessitates connecting with like-minded people. Imbibing the open source way takes time but it has huge benefits. Had The Hunger Games sort of mentality of early software companies prevailed, the Internet would have never become what we know it to be today. 

One of the common problems that a lot of people I interact with is unfamiliarity. To many, open source was seemingly made only for geeks who have the technical know-how to traverse its path. That misconception still needs to be addressed.
Why choose the open source way?
I believe the biggest benefit of using open source is the opportunity to get involved and transform yourself from a mere user or advocate to an active contributor. This involvement creates ownership and takes one closer to his or her goal with open source. Using Zotero is fun but getting involved in the project is even more fun. Reading about the open source world and about the top open source thought leaders is inspiring, but getting involved is a lot more fulfilling.

Working with and using open source also inspires bold thinking. Long ago, I had a serious learning problem, both in constructing well-formed sentences in English and handling mathematical data. On the positive side, I had a strong urge to develop both of these skills. What filled in the gap between reality and aspiration were the massive communities on Internet that provided a plethora of resources and support, free of cost. If I could benefit from these open online communities and enhance my skill set to a level where I can today contribute to major global platforms, and aspire to do more, then everyone should have access to the same resources.
I use technology to make the world more open. Linux desktop enthusiast. Map/geospatial nerd. Raspberry Pi tinkerer. Data analysis and visualization geek. Occasional coder. Sysadmin. Web maker. Red Hatter since 2013.

This work is licensed under a Creative Commons Attribution-Share Alike 3.0 Unported License.