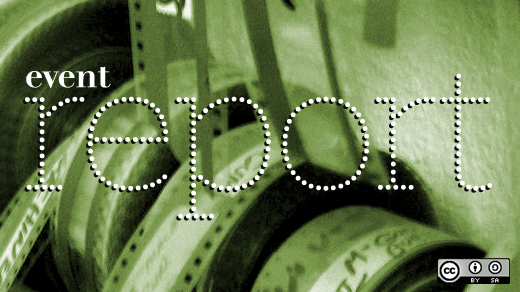 As an educator, trained Linux systems administrator, and technology director for a K-12 school district, I have been actively involved with NYSCATE (The New York State Association for Computers and Technologies in Education), a non-profit organization that works to lead the transformation of teaching and learning through technology. It's been 20 years since I attended my first NYSCATE conference, and the conference's open source presence has taken many different forms. 
Four years ago I partnered with a local technology firm and presented about using Virtual Box and several different versions of Linux including Fedora and Ubuntu. Conference attendees who attended our session got a chance to win a brand new computer equipped with Ubuntu, Virtual Box and other virtualized open source operating systems. Two years ago I presented on "Teaching Digital Citizenship with Free and Open Source Tools." Both sessions were well received.
Previous conferences presentations have focused on using the K12 Linux Terminal Server project and thin clients in schools. In the previous years, Rochester Institute of Technology had presented on One Laptop Per Child (OLPC) and also MythTV.  A few years ago I met Warren Luebkeman at NYSCATE. Warren owns, Resara, a company that specializes in providing open source solutions to education and the private sector. I have met other vendors too who have promoted open source software solutions as part of their repertoire.
The open source impact
The largest growth of open source in schools has been the adoption of an increasing number of Web 2.0 applications. Most of these are hosted on Linux servers, running Apache and PHP.  While most educators are unaware of this growing trend that does not stop them from using these resources.
Financial constraints which have effected nearly every school have driven educators and those charged with supporting education in the direction of open source. In the recent past K-12 schools and colleges used proprietary learning management solutions. Eager for a cost effective solution and one that can be easily tailored to each entity's particular needs has caused many teachers and administrators to look at Moodle. Schools that adopt Moodle as an LMS need only provide hosting or contract for it and the necessary staff development for teachers and students. Moodle can be used in school or at home on any of a variety of platforms including Windows, Macintosh, Linux, Android and iPad, iPod and iPhone devices.
With the growing popularity of Moodle, each year has seen NYSCATE members presenting on how they use the open source learning management system. The strength of Moodle is evidenced by the number of vendors on the display floor who found it necessary to compare themselves to Moodle. Also, at this year's conference I noticed an absence of Blackboard and Angel, who had booths at previous conferences. I wondered if that was due to the increasing penetration of Moodle into the the public school enterprise. Nearly all BOCES (Board of Cooperative Educational Services) in New York State now host Moodle servers for their client school districts and a growing number of State University of New York and private colleges in New York do the same.
Open source has become so prevalent in most educational enterprises that it is taken for granted. NYSCATE has its own Twitter account (@nyscate), and most if not all presenters use Twitter. I first became a Twitter user because NYSCATE wanted all its presenters to tweet/advertise their sessions. Twitter is undeniably open source. Wikispaces.com which is used by many presenters is also open source, as is PBWorks.com which is also used by many presenters. I would venture to say that most Web 2.0 applications which are extremely popular in the education space are running on Linux servers with Apache and PHP.
Open tools and software
One of the more interesting sessions that I attended at this year's conference was presented by Adam Bellow (@adambellow) who demonstrated how some schools are using Lulu.com to produce their school yearbook at great savings to the school districts. Other students including my own regularly use Gimp on the desktop or SumoPaint in the cloud. Both are reasonable replacements for Photoshop. Ustream.tv, which hosts morning announcements in some schools and other streaming educational content, is yet another example of quality affordable technology made possible by open technology. Even the increasingly popular Google Apps for Education, which now has official New York State Education Department and BOCES support, rides in an open source cloud.
The open source  model is about collaboration and community building, and that is ultimately what education is about. People helping people learn. The growth of educational resources due to the presence of open source software in the educational enterprise has dramatically leveled the playing field, and it will continue to expand as creativity and insight about its use grows.
Educator, entrepreneur, open source advocate, life long learner, Python teacher. M.A. in Educational Psychology, MSED in Educational Leadership, Linux system administrator, Follow me at @Don_Watkins . Mastodon ID

This work is licensed under a Creative Commons Attribution-Share Alike 3.0 Unported License.