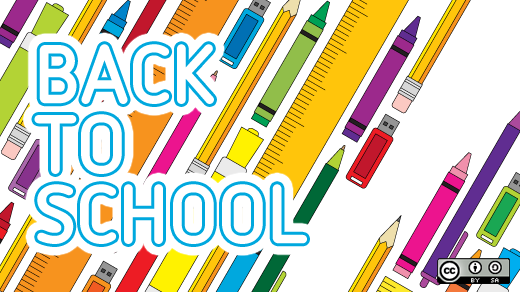 August and September signal the end of summer vacation and a return to school day routines. Teachers and students across the country are preparing for another great academic year. But a new school year can be both exciting and nerve-wracking. With new routines, schedules, classmates, school supply shopping, and a long list of preparations, the transition can be stressful, and costly, for students, parents, and teachers.
In September 2013, Opensource.com featured a selection of top-shelf software to help students and teachers ease back into the classroom. Like our students, open source learning software has grown up since that time. Let's take a look at a few affordable and stress-free open source software tools to help students and teachers make learning fun and stress-free... the commercial software bullies will be running off the playground in no time.
FocusWriter
How many browser tabs do you have open right now? Have you checked Twitter in the last 10 minutes? Let's face it: technology was born to grab our attention. Beat down the distractions and get back to writing with FocusWriter, an application that helps students (and adults) dismiss the siren songs of social media and YouTube videos so they can craft a perfect five-paragraph essay. Launch FocusWriter and the application fills the screen with a blank white page and charming simulated-wood desktop backdrop. FocusWriter does one thing very well: it removes temptation.
MoodleCloud
Moodle has long been the shining star of free and open source learning platforms, but the joy and challenge of configuring LAMP and managing a server without dedicated IT support precludes most classroom teachers from testing the Moodle waters. MoodleCloud, a new hosted Moodle service, makes it much easier for students and teachers to create a virtual classroom. Setup is super simple—create an account at moodlecloud.com and you'll be Moodling within minutes. As an added bonus, the open source BigBlueButton web conferencing system is included in every course; perfect for online tutoring sessions or virtual office hours.
MoodleCloud has a 50 user cap, which should be more than enough for most classes. The service is ideal for students and teachers needing small Moodle course sites, and schools can grow into a locally hosted Moodle server should they exceed MoodleCloud's limitations.
Brackets
Cool kids code, and when introducing programming to young minds, HTML is an easy entry point for students of all skill levels. Brackets is a terrific text editor that excels at visual web design. Lightweight and feature rich, Brackets is deeply customizable thanks to its underlying HTML, CSS, and JavaScript framework. With live code previews, students will love the immediacy of writing HTML and instantly discovering how their changes render in a browser.
For a fun and challenging learning project, have students pair Brackets and Reveal.js to craft a class presentation that will make PowerPoint look decidedly old school.
RedNotebook
Youthful minds are not always organized minds. Students often struggle with managing notes and lesson materials. RedNotebook is a simple calendar-based journal that can help tame unruly piles of digital paper. The application is built around the idea of a daily diary. Individual journal entries may be tagged, searched, and identified via a visual world cloud. Students can use RedNotebook to organize notes by class or unit of study. A neat feature is the ability to export journal entries, as text or PDF, by date range or by tag. A student might use the export function to submit a collection of written work to a teacher for grading, or to forward notes to fellow students who missed class.
ownCloud
Educators need convenient digital lockers to stash student projects and teacher work, but protecting student data privacy is a growing concern. With rampant data mining, surveillance, and third party sharing of sensitive data by commercial cloud and application providers, teachers must dodge a ghastly spitball of tangled student privacy issues.
A win-win for schools is ownCloud, an open source file sharing server that helps schools take back control of their data. Files are available via sync clients for nearly all major operating systems, as well as a web interface. ownCloud also includes a browser-based collaborative document editing tool, similar to Etherpad and Google Docs, which may be used to privately share documents between classmates and colleagues.
At Penn Manor School District, ownCloud Community Edition and GlusterFS delivers highly available on-premise cloud storage and synch services for over 500 teachers and staff across 10 school buildings. However, students and teachers could setup a classroom ownCloud server using a RaspberryPi. Wouldn't THAT be a cool back to school project?
Now it's your turn. What other learning applications might we find in your open source backpack? Tell us in the comments below.
Back to
School
This article is part of the Back to School series focused on open source projects and tools for students of all levels.
Charlie is the CIO for Penn Manor School District in Lancaster County, Pennsylvania and the author of The Open Schoolhouse.

This work is licensed under a Creative Commons Attribution-Share Alike 4.0 International License.