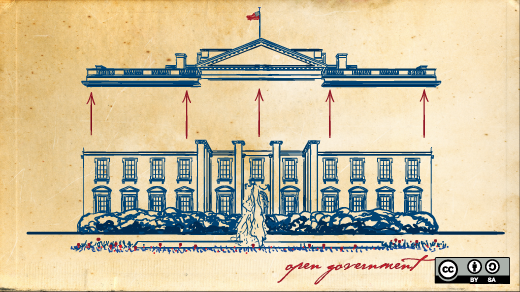 U.S. Chief Technology Officer Todd Park and Director of New Media for the White House Macon Phillips held a roundtable at North Carolina Central University's School of Law last week to discuss open government projects spearheaded by the new Presidential Innovation Fellows program.
Through the program, which launched in August, 18 Fellows from academia and industry are spending six months in Washington to work on five projects aimed at improving how the Federal government serves the American people, primarily through technology. The Administration has already espoused a number of open source principles and has followed through by releasing whitehouse.gov code for Drupal and the We the People petition app on GitHub. This latest initiative demonstrates that the Federal government is on an open source roll.
Briefly, these include:
Blue Button for America: An electronic health records project to allow all Americans access to their own health records, with an emphasis on useability and portability.
RFP-EZ: A platform to help small businesses, especially startups, do business with the government.
MyGov: A streamlined online system which will enable citizens to easily access information and services from across the Federal Government instead of having to go to a specific agency's website.
20% Initiative: A global initiative to help developing countries move to electronic instead of cash payment systems.
Open Data Initiatives: Making more government data publicly accessible in "computer-readable" formats to spur the use of that data by entrepreneurs as fuel for the creation of new products, services, and jobs.
FLOSS advocates have long been supporters of open data initiatives and electronic health records, but one of the least glamorous initiatives of the fellows, RFP-EZ, could potentially have the largest impact on open source adoption in the Federal government. Newer, innovative tech companies, like smaller open source players, tend to shy away from the government procurement process because it is too long (up to 24 months!) and complicated.
As Phillips said, "Some [larger] companies have, literally, floors of people dedicated to procurement. It's incredibly intimidating for a company of 10, or even five, people to do business with the government." Park cited the government's jargon and paperwork to be part of the problem. He wants to make the data surrounding procurement available in easier-to-understand language, and further, to "let people write the bid in normal human language and fill out the unwieldy paperwork later."
The goals of RFP-EZ are to provide 1) better and less expensive products and services to the federal government, saving taxpayer dollars and improving results delivered, and 2) easier access to the government marketplace for high-growth startups, helping to fuel job growth throughout the country.

Park expects RFP-EZ, combined with Federal CIO Steven VanRoekel's Contracting Guidance to Support Modular IT Development, to increase the amount of open source being used within the Federal government. If contractors can only spend 18 months on software development instead of dragging out development cycles 4-6 years, he expects more agile (often open source) companies to have the edge. Given the $80 billion the US Federal government spends annually on IT, that could be a huge win for startups.
Perhaps the best part—all of the Presidential Innovation Program code will be available via GitHub. "That wasn't even a question," said Park. "We're taking the intellectual property of the American people and giving it back to them."
Melanie Chernoff | As Public Policy Manager for Red Hat, Inc., Melanie monitors, evaluates, and works to influence U.S. and international legislation and government regulations affecting open source technologies and open standards. She also serves as chair of the company's Corporate Citizenship committee, coordinating Red Hat's charitable activities.

This work is licensed under a Creative Commons Attribution-Share Alike 3.0 Unported License.