One of the first publicly available open dataset/API from the City & County of Honolulu is the one made available by O`ahu Transit Services, provider of The Bus service. With open data, anyone could develop an app using The Bus API and three such apps were built, Hea.theBus.org, Allb.us and an iPhone app called DaBus. Both Allb.us and DaBus were developed as a result of the City's CityCamp Honolulu and Hackathon, this past December 2011 and January 2012, respectively.
When DaBus officially launched on the iTunes App Store in March, it was a chance to showcase all three apps and to build awareness of the open data ecosystem, i.e. data, applications, and community. There was also a third goal, to demonstrate the use of social media to the City who historically used traditional media to communicate to the pubic. The idea behind Geeks on DaBus came as a result of a meeting with Sheba Najmi from Code for America, Tara Coomans from Social Media Club of Hawaii, and Jim Fulton of Mayor Carlisle's media team. The game plan was to engage the public, using any of the apps, to ride The Bus from where ever they choose and meetup at the Greenhouse Innovation Hub for lunch. Along the way you could tweet, photograph, shoot video, etc. As an added bonus, Mayor Carlisle jumped on a bus near Honolulu Hale to make the rendezvous.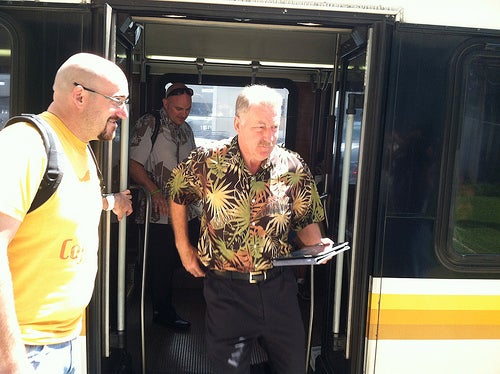 The estimated number of participants when originally planning this event was 20. We maxed out our Eventbrite cap of 40, but recognized that 50% of that number were City employees. According to the Archivist the hashtag #DaBusHNL represented nearly 500 tweets. Another telling stat were the number of downloads for the DaBus app:
Date – downloads
4/11 – 162
4/12 – 220
4/13 – 226
4/14 – 154
In addition to the tweet stats and number of downloads, there were the blog posts and articles by Jerome Koehler, Sheba Najmi (Code for America), Tara Coomans (Social Media Club of Hawaii), Ryan Ozawa (Hawaii Star), and Civil Beat. This all helped to maintain the dialog between the community and government. It also helped tremendously to document this process from various points of view.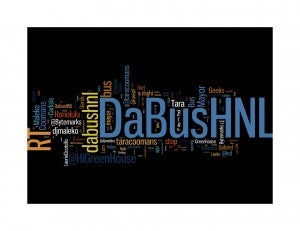 Another interesting outcome was the mashup of digital content, social media, and the web. This Wordle word cloud captured the key words and people behind the tweets. John Garcia and Derek Gabriel created a splashpage for DaBusApp. Brian Dote created Tweetmapr, a map of tweets based on geolocation. These new ways of presentation and visualization help to stimulate ideas and insights into the data. Open data in combination with application development, social media, and visualization tools not only create transparency and civic engagement, but also stimulate new ways of understanding the data. With advancements in sentiment and word analysis, this opens up entirely new vistas of knowledge discovery.
Acknowledgement: Diana Tran for DaBus graphics
Digital ronin traveling the bitstream called life. Covering the science and tech scene in Hawaii at Bytemarks.org and on the radio at BytemarksCafe.org.

This work is licensed under a Creative Commons Attribution-Share Alike 3.0 Unported License.