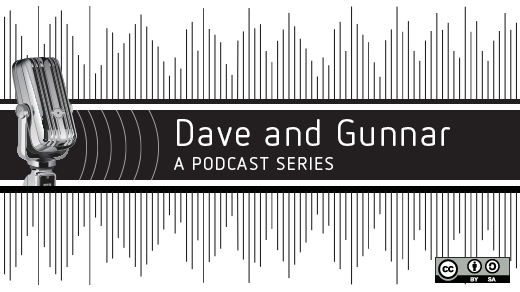 The Dave and Gunnar Show is a new podcast series talking about government, open source, and a sprinkling of Red Hat projects. I recently discovered it and thought the opensource.com audience might enjoy it too. What do you think?
Episode 10, Go Ugly Early particulary struck me. Give it a listen:
Dave and Gunnar discuss the Open Data Policy, Scratch update, Facebook's open source software network hardware, intentional and unintentional declassification, Red Hat Support up in your screen, how the Department of Defense (DOD) is using OpenShift, markdown, and Year 0 of the Meeting Jihad.
Share your thoughts in the comments below. Is this podcast something you'd like to see regularly featured on opensource.com? Should we promote each show or select certain episodes?
Your feedback is appreciated.
---
Get all the links from the show including some fun items from the cutting room floor. More episodes can be found at dgshow.org.
Jason Hibbets is a Community Director at Red Hat with the Digital Communities team. He works with the Enable Architect, Enable Sysadmin, Enterprisers Project, and Opensource.com community publications.

This work is licensed under a Creative Commons Attribution-Share Alike 3.0 Unported License.