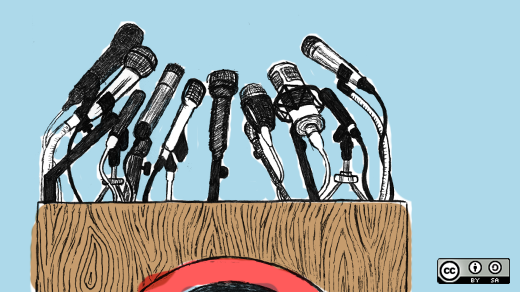 Last week, the UK Cabinet Office released its Open Standards Principles: For software interoperability, data and document formats in government IT specifications. It became effective November 1, 2012, and applies to IT specifications for software interoperability, data, and document formats for all services delivered by, or on behalf of, central government departments, their agencies, non-departmental public bodies (NDPBs), and any other bodies for which they are responsible.
For the open source community and advocates of open standards, the UK's Open Standards Principles policy is a welcome and positive development. It follows a lengthy, and often tumultuous, consultative process that began in 2011.
On behalf of Red Hat, I was pleased to work with our UK colleagues to voice support for the Cabinet Office policy consultation, including participating in one of the Roundtables, along with others in the community. Great to see Open Forum Europe, the Free Software Foundation Europe, and Simon Phipps, President of the Open Source Initiative, all welcome the policy. (Please send other statements of support and we'll update!)
In a thoughtful response to the comments received during the consultation, the Cabinet Office debunks many of the claims made by those who lobbied hard against the open standards policy. At its core, the policy affirms that open standards are pro-innovation, "encourage competition for government IT contracts and reduce the opportunity for incumbent suppliers to be entrenched due to lock-in," and facilitate "more choice among vendors, and new SMEs entering the market for the provision of products and services to governmental bodies." They "are enablers for change, giving services the freedom to evolve according to changing user needs, expectations and technology innovation." On a number of levels, the UK Cabinet Office is to be commended for its hard work in the development and conclusion of this policy.
This action by the UK Cabinet Office is, in my view, viewed through a larger lens. This is not merely an 'open standards policy.' It is the latest step and an integral part of the UK's effort to reform its public sector ICT procurement and complements its emphasis on use of open source software and the Cabinet Office Open Source Procurement Toolkit. As the UK government stated last year, "The Government will also put an end to the oligopoly of large suppliers that monopolise its ICT provision" and will strive to "procure open source solutions" which when used with open standards, "present[s] significant opportunities for the design and delivery of interoperable solutions."
This effort potentially reshapes the competitive landscape for frameworks for government IT procurements. Where applicable, they "must specify that open standards for software interoperability, data and document formats should be implemented, subject to the principle of equivalence, unless there is a clear business need why an open standard is inappropriate and an exemption has been agreed."
This focus on the IT procurement environment, which includes open standards and open source as integral components, is one that is increasingly recognized. As Red Hat CEO, Jim Whitehurst, pointed out, "IT procurement practice hinders growth of open source industry."
According to the Principles, open standards for software interoperability, data, and document formats, "which exhibit all of the following criteria, are considered consistent with this policy."
Collaboration—the standard is maintained through a collaborative decision-making process that is consensus based and independent of any individual supplier. Involvement in the development and maintenance of the standard is accessible to all interested parties.
Transparency—the decision-making process is transparent and a publicly accessible review by subject matter experts is part of the process.
Due process—the standard is adopted by a specification or standardisation organisation, or a forum, or consortium with a feedback and ratification process to ensure quality.
Fair access—the standard is published, thoroughly documented, and publicly available at zero or low cost.
Market support—other than in the context of creating innovative solutions, the standard is mature, supported by the market, and demonstrates platform, application, and vendor independence.
Rights—rights essential to implementation of the standard, and for interfacing with other implementations, which have adopted that same standard, are licensed on a royalty-free basis that is compatible with both open source [i.e., open source licenses approved by the Open Source Initiative via their License Review Process] and proprietary licensed solutions. These rights should be irrevocable unless there is a breach of license conditions.
Whether they are designed and built in-house or outsourced, per the policy, government bodies must require solutions that comply with open standards, for software interoperability, data, and document formats, where they exist and meet functional needs, "unless there is a robust and transparent reason why this is inappropriate."
This is, indeed, as the UK Cabinet office says, "the start of an exciting new chapter that will inform every part of the Government's IT agenda—and enable us to reform the way we procure, design, and run IT-enabled business change."
There is already some evidence that the policy is being implemented via specific controls. According to one report, the open standards principles have already been "embedded" in the Cabinet Office's spending controls. The same story reported a Cabinet Officer spokesperson, "The [Cabinet Office] controls are there to point departments in the right direction with regards to our IT Strategy. They provide a challenge and external approval function before departments can commit to expenditure, which will help projects from being delayed or reshaped."
This follows on reports earlier this year that the UK government pulled the plug on some "IT projects that don't explore alternatives to closed and proprietary software are getting kicked back and denied funding."
This latest action by the UK Cabinet Office is a new benchmark. And with this new chapter, the work continues to make sure this policy is implemented effectively, transparently, and efficiently.
Additional news reports you may find useful:
Mark Bohannon | Mark Bohannon is Vice President of Global Public Policy and Government Affairs at Red Hat. Previously, he served as Senior Vice President, Public Policy and General Counsel at the Software & Information Industry Association (SIIA), the principal U.S. trade association for the software and digital content industry.

This work is licensed under a Creative Commons Attribution-Share Alike 3.0 Unported License.