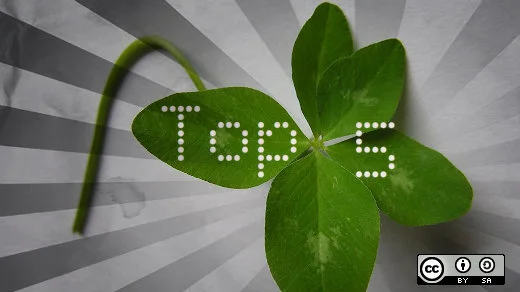 Every week, I tally the numbers and listen to the buzz to bring you the best of last week's open source news and stories on Opensource.com, this week October 13 - 17, 2014.
Top 5 articles of the week
#5. Government Evangelist at GitHub on US open technologies
Ocotcat wears a wig
Melanie Chernoff, Public Policy Manager for Red Hat and Opensource.com Advisor, interviews Ben Balter, a Government Evangelist at GitHub. What does that job title mean exactly? Well, Melanie says it best: "He leads the efforts to encourage adoption of open source philosophies, making all levels of government better, one repository at a time." I was interested in Ben's work and this interview because I wondered why a code repository platform like GitHub would need a government guy. The answer is around government agencies who use GitHub and that more and more of them are. How cool! But, get the full scoop on Ben's work in the interview.
He'll also be talking about Software Development as a Civic Service at the All Things Open conference this year in Raleigh, October 22 and 23.
#4. What's in a name in open source?
Poetry in motion
Marten Mickos article is his third and final in a series on open source business models. The series was more or less a transcript of a recent talk he gave. As the head of the Cloud business unit at Hewlett Packard, and CEO of Eucalyptus Systems before that, I thought Marten had some interesting experience and knowledge to share about what it means to be an open source business and the trade-offs you have to make to make that business viable and successful. This is a good read for anyone who wants to know more about how a business runs on open source.
#3. Where new European Commission leaders stand on open source
Farewell Neelie!
Paul Brownell reflects on the upcoming departure of European Commission Vice President for the Digital Agenda, Neelie Kroes, reminding us over her advocacy for open standards and open source software. So, who will take her place? Paul says it's too early to tell, but in the meantime we can take a look at the track record of the two people named to lead on ICT for the new Commission.
#2. Five open source alternatives to popular web apps
Solve for X
Scott Nesbitt takes us away again on another ride through his top open source alternatives for X. This time it's popular web apps, and aren't we glad? We know you have a need for speed, and this article's got just that on how to get and use these open source apps. Maybe you'll be tossing out Instagram and Dropbox just as fast!
ownStaGram for Instagram
wallabag for Pocket
FreshRSS for Google Reader (canceled last year)
ownCloud for Dropbox
Shaarli for Delicious
#1. New open hardware: Raspberry Pi B+
We berry much love the design of the Raspberry Pi
Luis Ibanez, a writer and Community Moderator for Opensource.com, ordered the fairly new Raspberry Pi B+ board from Adafruit and sent us his review. He takes note of the differences between the model B and the new model B+, while reminding us that what hasn't changed is the price and the amount of RAM! Wahoo! They are $35.00 dollars and 512 Megabytes, respectively. Luis goes further and instructs readers on how to set it up, which he says is still pretty basic and straight forward, though there are some adjustments he recommends using the Raspbian Wheezy Linux distribution.
Jen leads a team of community managers for the Digital Communities team at Red Hat. She lives in Raleigh with her husband and daughters, June and Jewel.

This work is licensed under a Creative Commons Attribution-Share Alike 4.0 International License.