Smaller than a credit card, BITalino is a low-cost hardware and open source software toolkit, aligned with the DIY (do-it-yourself) movement. It enables anyone to create quirky and serious projects alike for wearable health tracking devices. The base kit includes sensors to measure your muscles, heart, nervous system, motion, and ambient light—and it includes a microcontroller, Bluetooth, power management module, and all the accessories needed to start working.
Originally percieved as a device to democratize technologies that can easily cost in excess of $10,000, today BITalino is achieving that success and being used by artists, makers, students, researchers, professional app developers, and many others. BITalino can be definded as the Arduino or Raspberry Pi for your body signals, empowering people all around the world to the creation of next-generation quantified self devices and applications.
Currently there are 1200+ units literally living all around the world… just to mention a few places, we have users in the Philippines, Mauritius Islands, New Zealand, Mexico, Singapore, among many others. To illustrate some of the hype around BITalino, in Chile for example, a university there organized a kind of Maker Faire exclusively devoted to projects made with BITalino!
There are already a number of cool projects based on these technologies that people normally associate with hospital and very complex processes, but which are in fact simple. They include an interactive room that reacts to the emotional state of the visitor, bicycle handlebars that monitor your heart rate without requiring any accessory placed on the body of the cyclist, a device to improve the independence of people with ALS, and a drone controller based on muscle signals.
The team had their first BITalino enter the sales for the research centers of semi-conductor giants such as Samsung. Seeing our work entering places that are huge references at a global scale is simply indescribable. Besides these achievements, the team also has a great respect for the community, or the "BITalino family". From 3D models to APIs, there are dozens of users all around the world contributing to make BITalino a better platform, and that's a great honor for us all.
In one project, BITalino has been used to create a Jedi-like controller for an AR.Parrot drone. An EMG, an accelerometer, the microcontroller (MCU), Bluetooth, and power modules were matched to fit an armband produced using a 3D printer. This BITalino-powered smart armband then streams both the muscle activity and the data from the onboard triaxial accelerometer in real-time. Muscle signals are used to control the lift, while accelerometer data is used to detect the tilt in each axis and control the navigation of the drone.
For the time being, a computer mediates the communication between BITalino and the AR.Parrot in order to facilitate the prototyping and testing process; the Python API for BITalino is used to receive the data in real-time, while Bastian Venthur's libardrone is used to control the drone. However, the team is already working on an evolution of this project that uses a WiFi module directly connected to BITalino, to enable direct communication between the BITalino MCU, and the drone using an adapted version of the BITalino firmware.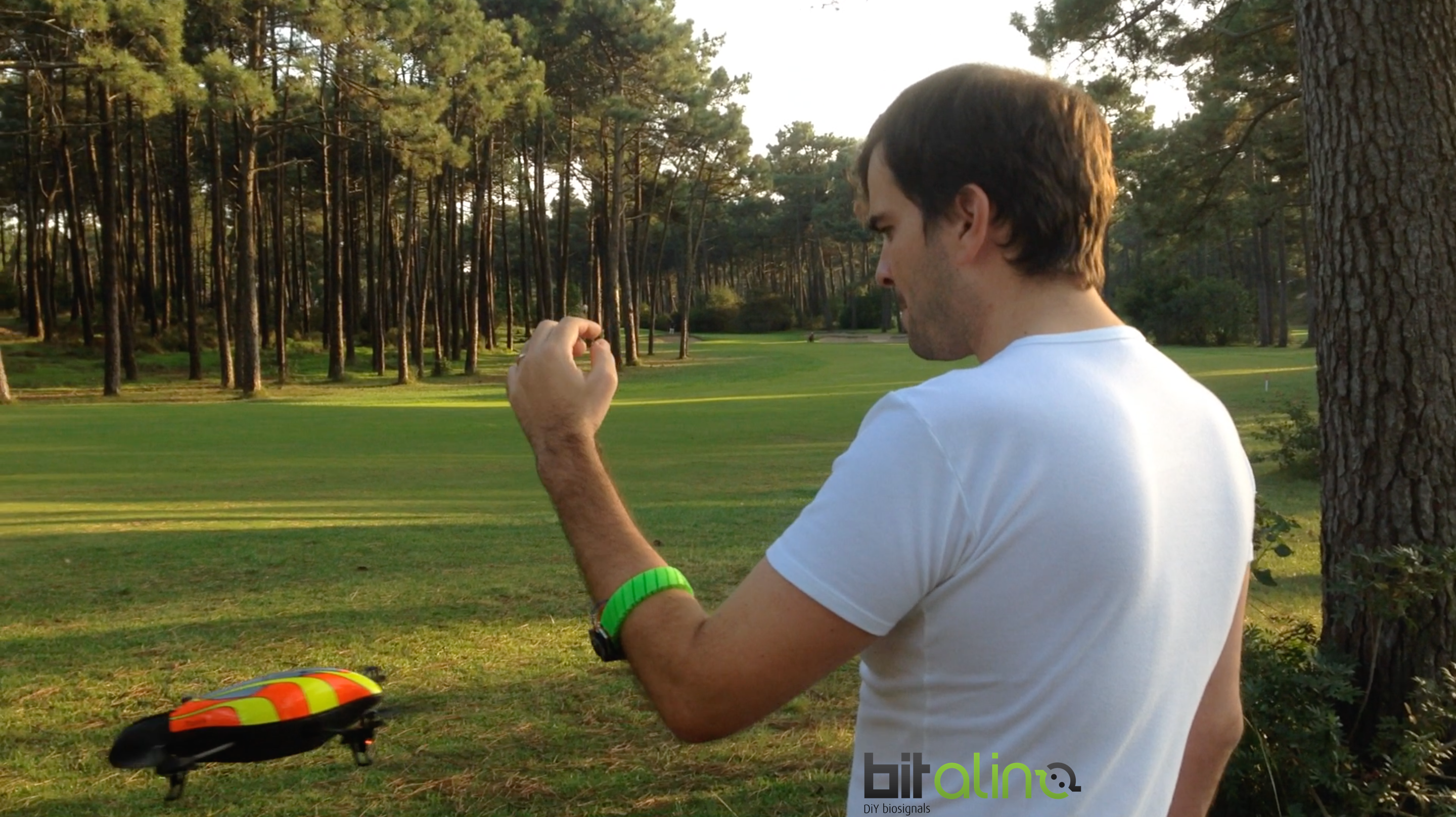 In another project, BITalino has been used to improve the independence of a person with ALS (a disease of the nerve cells), who is unable to control the computer using the standard keyboard or mouse. The EMG, microcontroller, Bluetooth, and power modules were soldered together into a lighter-sized form factor, and placed inside an off-the-shelve enclosure to enable easy application to muscle on facial muscles. The EMG sensor picks up even the faintest muscle activation signals, and from these signals, algorithms running on the computer perform digital filtering, envelope detection, and onset detection (corresponding to a voluntary muscle contraction made by the user).
The software running on the computer then acts as an emulator, and whenever an onset is detected (e.g.), it sends operating system events to open applications, write text, control the mouse, and other operations. What's interesting about the EMG, is that it can be controlled voluntarily by the user, and as any time-domain signal, it enables multiple degrees of freedom that can then be mapped into different functions on the computer. These include onset, amplitude, duration, and frequency (single onset vs. multiple onsets).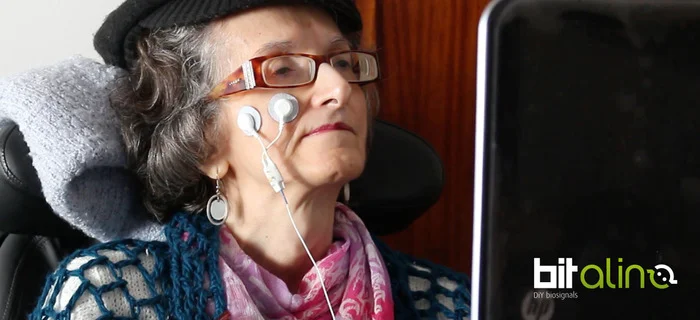 For me, as the cofounder of the medical device company PLUX – Wireless Biosignals (out of Lisbon, Portugal) and a researcher at the IT – Instituto de Telecomunicações, I see BITalino as a success story between academia and industry and as a great example of practical utility. Additionally, BITalino was one of only 10 semi-finalist projects worldwide at Engadget Insert Coin 2013, and it was selected by the The New Zealand Herald as one of their tech favorites for 2013.
I recognize that throughout the year our team has made an incredible effort to listen to the requests made by the community, and so a campaign is now live on Kickstarter to create a true BITalino (r)evolution. What can be done with BITalino, one might ask? Well… imagination is really the limit, but one example is using Electromyography (EMG) (i.e., muscle signals) for hands-free control of you computer, mobile phone, or any other connected device. BITalino's mix-and-match modular design, enables users to go freestyle by snapping each individual component from the main board and re-assembling in the form factor they find more suitable.
Hugo Plácido da Silva | Hugo completed a BS in Computer Science, and a MS in Electrical and Computers Engineering. Since 2004, Hugo is a researcher at the IT - Instituto de Telecomunicações, where he's currently pursuing his PhD. In 2012, he was a visiting researcher at the Computational and NeuroEgineering Labority (CNEL) from the University of Florida.

This work is licensed under a Creative Commons Attribution-Share Alike 4.0 International License.