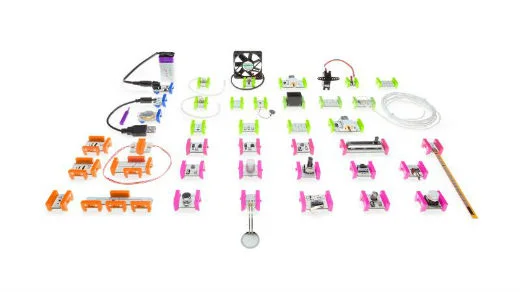 littleBits makes electronic modules that snap together with magnets—no soldering, wiring or programming required. We believe in the power of open innovation—our designs are publicly available so that anyone can see and use them, and we foster a community of contributors who experiment, share online and learn from each other's creativity.
Our growing community consists of engineers, designers, artists, educators, makers, hackers, kids and parents—the list goes on!
We've compiled a list of littleBits projects that demonstrate how people are using electronics to prototype and build for diverse applications. From a working homemade version of a phonograph to a sample rotator used in place of laboratory equipment, littleBits empower people of all ages and backgrounds to invent and create. Projects are shared on the littleBits community page and range from games, to gadgets, to mini machines.
Community submitted littleBits projects
Crayon Lathe by Tmax (also on Instructables): Turn crayons into intricate and customizable shapes with this miniature lathe made from littleBits. All you need is a power module, a DC motor and a mount for the crayon.
Pizza Box Phonograph by Ginger Butcher: Listen to music the old-school way. This project is an ingenious re-creation of a classic machine, powered with the littleBits DC motor, a pizza box, a sheet of notebook paper and a sewing needle.
littleBits Sample Rotater by Kra5h (also on Instructables): Build a sample rotator using Erector set parts and littleBits for your home laboratory. The sample rotator, or media rotator, "is a common piece of standard laboratory equipment that is used for continuous mixing of lab samples, for example for slowly reacting or dissolving components."
Simple Line Follower by Yoobin's family: This line-following vehicle is able to navigate the twists and turns of a black line made from tape on the floor. How it works: two bright LEDs shine on the floor, reflect light up into two light sensors that connect to two DC motors spinning the wheels, and keep this smart little car on course. You will need littleBits + box paper + a set of wheels; no microcontroller or programming language required.
littleBits go LARGE by kingarthursdog: This project just won an international design award! It adapts littleBits for people who have learning disabilities, particularly those with limited manual dexterity. The idea is to make the modules easier to pick up and connect. The prototype adapts the modules with a larger base and a distinctive shape, making the act of connecting more intuitive.
DIY littleBits by JackANDJude (also on Instructables): Make red and blue lights flash opposite of one another, just like in a police car. Place an inverter between two lights and after a pulse. Then change the speed of the pulse to make the lights alternate more quickly or slowly.
Ready to join the littleBits revolution?
The mission of our company is to put the power of electronics into everyone's hands. During the first two years, we focused on the word "everyone," and now our next phase is focused on the word "power." We just announced the Cloud module, which will enable you to create your own internet connected devices; just think of the possibilities! Join the waitlist now.
More exciting products are up our sleeves that will enable users to take their littleBits projects to the next level. In the meantime, grab some littleBits, create a project, and upload it to our community page to join the projects mentioned here. We love seeing the amazing, smart, funny and mind-boggling projects you dream up.
Happy making!
---
View the complete collection of Open Hardware Week articles.
littleBits makes an open source library of electronic modules that snap together with magnets for prototyping, learning and fun. Each module has a specific function (light, sound, sensors, buttons, motors, internet connectivity etc) – simply snap two or more together to make a circuit in seconds. We're a NYC based startup founded by Ayah Bdeir, MIT Media Lab graduate and Senior TED Fellow.

This work is licensed under a Creative Commons Attribution-Share Alike 4.0 International License.