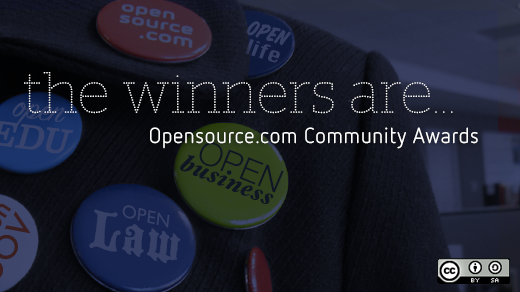 Every year Opensource.com awards members of our community who have excelled in contributing and sharing stories about how open source is changing the world.
This year we present the 2014 Opensource.com Community Awards to these outstanding community members in the following categories.
The winners are...
People's Choice Award
recognizes the community's favorite contributors from 2013
(voted by the community)

Lauren Egts

Lauren Egts is a student who enjoys speaking about technology. She educates children and adults about computer programming by presenting on Scratch and Rasberry Pi at the Akron Linux User Group and the Cleveland and Akron Mini-Maker Faires. In her spare time, she also enjoys robotics competitions, Legos, and science fiction. Lauren was interviewed earlier this year about a game she wrote for Scratch. And, she recently contributed, How computer science teachers can better reach their students, for our Youth in Open Source Week.
Chris Haddad

Chris Haddad is Vice President Technology Evangelism for WSO2, an open source Cloud Platform vendor. Chris has been hacking Apache open source since 1999, and he gained committer status on the Apache Axis project in 2003. Chris is a former developer, architect, consultant, and research leader whose goal is to encourage DevOps, big data, Platform as a Service, and cloud architecture best practices that maximize your business value and agility. Chris wrote, 10 ways to start contributing to open source, which generated lots interest and conversation about how to get started with open source.
Charlie Reisinger

Charlie Reisinger is the IT Director for Penn Manor School District in Lancaster County Pennsylvania and a K12 EdTech veteran. His role is to administer district IT infrastructure and lead Penn Manor's instructional technology initiatives. He says he is fortunate to work with a team of dedicated experts who value innovation and student achievement. Charlie wrote multiple articles in 2013 including this top post: Back to school with open source: Five tools for less stress and better learning.
Reader's Choice Award
recognizes the community's favorite article from 2013
(voted by the community)
Dan Walsh

Dan wrote Your visual how-to guide for SELinux policy enforcement in November 2013, and it was voted as one of this year's Reader's Choice Award. The illustrations created for this article by Red Hat's Máirín Duffy (a previous People's Choice Award winner) are an added bonus for our readers!
Daniel has worked in the computer security field for almost 30 years and joined Red Hat in August 2001. He has led the SELinux project, concentrating on the application space and policy development. Dan helped developed sVirt, Secure Vitrualization. He also created the SELinux Sandbox, the Xguest user and the Secure Kiosk. Dan also works with the OpenShift team to secure the gears, and now works on Securing Linux Containers.
Luis Ibanez

Luis wrote University course trades textbook for Raspberry Pi in October 2013, and it was voted as one of this year's Reader's Choice Award. This story highlights the teaching methods in the class "Information in the 21st Century" at the State University of New York in Albany.
Among his many roles in the open source community, Luis is a contributor to ITK and Director of Science and IP at OSEHRA. He wants Electronic Health Records (EHR) systems to be more open and believes in the open source way because it empowers us to drive change. Luis won a 2013 People's Choice Award and is a Community Moderator.
Moderator's Choice Award
recognizes a member who has made a big difference in the community
(voted by the Community Moderators)

Robin Muilwijk

After almost 10 years in open source, Robin Muilwijk is still fighting the misconceptions that come with working in the industry. He says the toughest part is finding the right balance between openness while continuing to promote the open source way of doing business.
At Opensource.com, Robin is a frequent contributor—he recently wrote Building a scalable open source business model in the 90s and consistently adds insightful commentary to others' articles. He is a Community Moderator and has earned the role of a comment gardner for the site. He has also won a 2014 Social Sharer Award for sharing articles with his followers on social media.
Social Sharer Awards
recognizes those who have excelled in sharing Opensource.com stories on the web
(selected by the Opensource.com team)

Luis Ibanez on Facebook
Don Watkins @don_watkins on Twitter
Taco Mahn on Facebook
Robin Muilwijk @i_robin on Twitter
Conversation Starter Awards
recognizes those who have excelled in starting conversations around Opensource.com stories
(selected by the Opensource.com team)

Aseem Sharma

See his comments by viewing his profile.
Aseem has recently joined the Community Moderator program. He writes mostly about the impact of open source on teaching and learning, from bridging the digital divide to the open source way in higher education. You'll also frequently find him in the comments section adding to our community discussions. Outside of work and learning, Aseem uses a variety of open source applications as a part of his everyday productivity.

 
Maricelle Thomas

See her comments by viewing her profile.
Maricelle Thomas has a MBA with a background in Engineering and IT. She started out as an Industrial Engineer and later moved into supporting and implementing ERP systems and Web Applications. A strong interest in the Arts and Creative fields led to her current gig as a Tech Blogger. Her deep experience in Business Analysis and various technologies enable her to provide her readers with a rich perspective on how technology can improve their daily lives. Check out her videos on YouTube or read up on her latest posts at Google +, Blogger, and getlinuxanswers.com.

 
Marcus Hanwell

See his comments by viewing his profile.
Marcus D. Hanwell is a Technical Leader in the Scientific Computing group at Kitware, Inc. He leads the Open Chemistry project, developing open-source tools for chemistry, bioinformatics, and materials science research. He is a member of the Blue Obelisk, blogs, @mhanwell on Twitter and is active on Google+. He is passionate about open science, open source and making sense of increasingly large scientific data to understand the world around us. Marcus is also a Community Moderator.
---
Thank you to everyone who voted in this year's 2014 Opensource.com Community Awards and congratulations to all of the winners!
Opensource.com publishes stories about creating, adopting, and sharing open source solutions. Follow us on Twitter @opensourceway.

This work is licensed under a Creative Commons Attribution-Share Alike 4.0 International License.