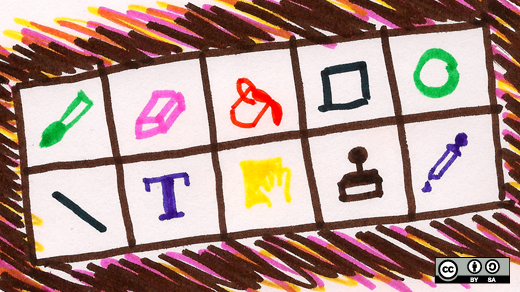 The holiday break and start of the new year are just around the corner, and this week's "Hour of Code" can be a great time to get your kids involved in a creative new world of problem-solving. I'm talking about coding—computer programming—and, your kids are probably not too young to start learning. I began coding with my sons when they were ages 2 and 4 (they're now 5 and 7, and I collected the apps we built into a fun book, Teach Your Kids to Code, 2015, from No Starch Press).
Why coding? Three reasons:
Coding is problem-solving. More than a job skill, more than speaking the language of computers, coding is a new toolset for solving problems. Think about the way mobile apps have made many areas of life more convenient—coding is about solving people problems, helping others, using technology.
Coding is a creative outlet. These days, everyone can learn to code—doctors, accountants, artists, entrepreneurs, sports stars (like Chris Bosh of the Miami Heat), musicians (like will.i.am of the Black Eyed Peas, an avid coder), any profession or field can be enhanced with technology. Coding isn't just for future software engineers anymore—it's become the way creative, tech-savvy individuals in every walk of life create apps and use new tools to make life better, more connected, and more interesting.
Coding is a team sport. Programmers are no longer solo braniacs cubed off in the basement. Your favorite apps come from teams of talented designers, developers, artists, and engineers from multiple disciplines, focused on usability—function and form.
Coders don't just consume technology, they create new things using technology. And, parents and kids can get in on coding together. The goal is to get your hands on new, exciting toys and tools that can help you learn how to apply coding to real-world problems. Here are several budget-friendly, fun ways to start exploring technology together as a family.
Under $25: Form a coding team or hold a hackathon
If you've already spent all your holiday cash, or if you just want to try coding on the cheap, you can start a coding team or weekly meetup, or host a hackathon for little or no money at all.
If you want to learn real-world coding in Python, Ruby, Javascript, PHP, and more, free web sites such as Codecademy.com and online courses from Coursera and Udemy may be your next step.
Pick up any of the new programming books for kids (like Teach Your Kids to Code, which is less than $20 on Amazon.com) and work together with friends, kids, and parents, or form an ad-hoc computing club.
An impromptu hackathon costs nothing more than snacks, and can get a group of kids motivated around the idea of producing one playable game or usable app in just a day or two. Grab a few programming books from the library and set up a laptop or two, and be there to help when the kids get stuck or get too far off track.
$50: Bots, Beans, and Pis
The $50 arena has opened up considerably thanks to Kickstarter and other crowdfunding sites. One Kickstarter alum, the Edison ($49 on meetedison.com), is a fully programmable, LEGO-compatible, remote-controlled, two-wheeled robot that's lighting up STEM (science, technology, engineering and mathematics) classes—quite literally—thanks to its cool LEDs. Schools can get a classroom set for $33 each, putting robotics within reach for the first time in many districts.
Not interested in a bot? You can build your own computer for less than $50 with the ever-popular Raspberry Pi 2 Model B. Plug into a monitor, keyboard, and mouse, and boot from an SD card, and you can start coding in Python, C, C++, Java, Scratch, and Ruby (all included in the standard Raspbian Linux operating system) from the moment you turn it on. Imagine the feeling of building your own computer, then programming games on it in Python and Pygame!
For hardier do-it-yourselfers, an exciting, newer Arduino incarnation, the LightBlue Bean and fresh Kickstarter-backed Bean+ ($30-40, punchthrough.com), isn't so much a bot or computer as an anything-you-want-it-to-become. You can program it from any smartphone or laptop using a variety of interfaces, and sample projects include musical light-up toys, a safe cracker, motion and temperature sensors, mood lights, an LED sketchpad, and a ukulele.
$100: The Tickle app (plus Parrot Minidrone or Sphero robotic ball/Ollie rolling robot)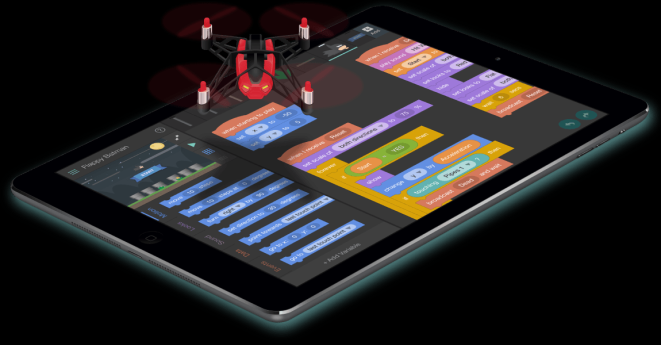 The Tickle iPad app and a flying Parrot Mini Drone (Used with permission, copyright 2015 tickleapp.com)
Tickle is a free app (iOS-only, as of this writing) that uses the familiar block-based programming you may recognize from Scratch, Hopscotch, or Blockly.
The awesome thing about Tickle is that it includes the ability to program Parrot Mini Drones (starting around $99 on Amazon), the Sphero robotic ball and the Ollie rolling robot ($95-$115) and other cool Bluetooth devices.
All of those devices come with free apps for both iOS and Android—the difference is that Tickle allows you not only to fly, drive, or configure your device, but to program it to do something. Make the Parrot Mini Drone follow your hand, land on a target, go over a wall, using block-like instructions you drag and drop into place. Train Ollie or Sphero to navigate your house or run an obstacle course, all from your iPad.
No matter where you start, your kids need more problem-solving skills (we all do). They need an edge in the fast-paced workplace and inventor-space they're entering. And, they just might be willing to pick up these skills alongside mom or dad. Try some new tech, create some code, and watch your kids enter a new world of possibilities.
A tenured professor of computer science and director of the Center for Cyber Operations Education at the University of North Georgia, Bryson Payne is the author of the books Teach Your Kids to Code (2015) and Learn Java the Easy Way (2017) from No Starch Press, and instructor for the Udemy.com online courses Teach Your Kids to Code (Python), Learn Java the Easy Way, and Real-W

This work is licensed under a Creative Commons Attribution-Share Alike 4.0 International License.