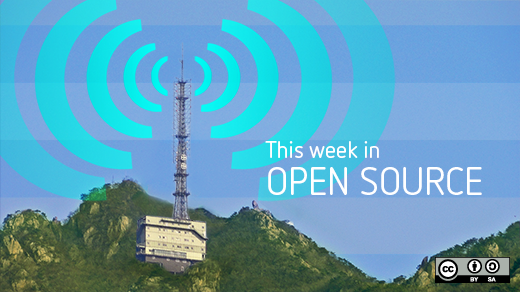 In this week's edition of our open source news roundup, we take a look at Docker and the Oceanic Society, Linux kernel version 4.0, a mini-farm, and more!
Open source news for your reading pleasure.
February 21 - 27, 2015
Docker supports whale and marine wildlife conservation
Docker announced it will organize an open-source-a-thon in partnership with the Oceanic Society to teach people how to contribute to open source. Each contribution to the Docker Project will support the Oceanic Society and its mission to conserve oceans and the wildlife that live in them. This charitable program starts on March 23 and will run for five weeks.
Roderic Mast, president and CEO of the Oceanic Society says: "Docker's commitment to ocean health is admirable, and the program brilliantly brings the power of open source technology to bear in helping conserve the oceans and helping at-risk whale populations."
Linux kernel v4.0?
Linux kernel version 4.0 is around the corner. And you might expect new, big features with a 4.0 software release, but it's not the case here, according to Steven J. Vaughan-Nichols on ZDNet. But will it be named v4.0? Or something else? Check out Linux founder Linus Torvalds' poll on Google+ asking what people prefer. He says he wants to avoid big version numbers that you can't distinguish, but "I'm once more close to running out of fingers and toes." What do you think?
With a slim margin of 56% to 44%, it looks like Linux 4.0-rc1 is ready for testing. Vaughan-Nichols concludes: "Torvalds sums it up as 'On an actual technical side, this was a *fairly* small release.' The only real changes are the integration of live-patching into the Linux kernel and better memory page handling. Still, with this new numbering scheme, Torvalds 'can do releases without having to take off my socks again'.
Bastian Greshake, the 'Mark Zuckerberg' of open source genetics
Bastian Greshake is a biologist who has spent years studying genetics of other organisms without knowing much about his own DNA. That changed recently after he sent his own DNA to personal genomics company 23andMe. After he got his results back, he published his genetic information to GitHub and went looking for other people who were open sourcing their DNA. Greshake was hoping for more participation that he saw, and phenotypic information like eye color and weight, so he set out to build an open source platform to help.
OpenSNP pulls genetic information and other data from services like 23andMe, that users upload to public. Greshake hopes that one day scientists will be able to use this data to do world changing science. And although this hasn't happened yet, with just 1500 people using 23andMe at this time, his vision could come true, as Daniela Hernandez writes. Open source tools drive the tech industry in many ways, and "when it comes to genetics, open-sourcing has potentially life-saving benefits."
Build your own Grow Box
Paul Ridden from gizmag.com writes about an open source mini-farm called the Grow Box, from non-profit organization Food Rising. This system doesn't require pumps, motors, or other complex parts. And it's reported to require 1/20th of the water of conventional agriculture, and half the space, compared to soil gardening.
The Grow Box is based on the principles of constant bottom feeding and non-circulating hydroponics. It needs an automatic self-watering float valve, based on 3D printed components, and some common household items. Food Rising provides makers with videos to walk them through the building process. And, print files are available for download (licensed CC BY-NC 4.0).
Open Data Camp UK: Bursting out of the Open Data Bubble
"Nobody cares about open data," was a thought voiced during Open Data Camp, one of the events that took place during Open Data Day on Saturday, February 21.
Marieke Guy is keen to change that. She writes about a session she attended for creating an open data board game. Why? A board game has the potential to reach and teach many people. The question during the session was: Do we create a game for the general public? Or, do we create a game for those already into open data? This discussion moved away from the design of the board game to engaging with other people: "While the general public doesn't care about Open Data per se they do care about the result it brings."
Guy covers a few other sessions in her blog post, like data literacy and an introduction to the National Information Infrastructure framework. For more highlights, read the Open Data Camp blog posts. Other news on Open Data Day, such as Canada's CODE and Code for America's CodeAcross civic hacking are interesting reads as well.
In other news
Thanks, as always, to Opensource.com staff members and moderators for their help this week. Make sure to check out our event calendar, to see what's happening next week in open source.

This work is licensed under a Creative Commons Attribution-Share Alike 4.0 International License.