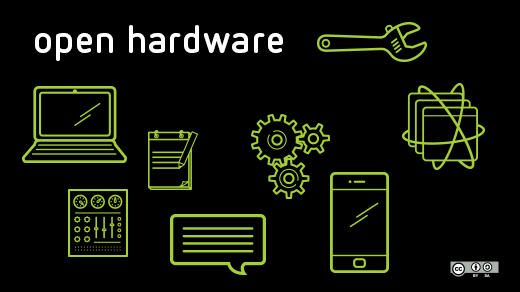 The open hardware movement, much like the open source movement as a whole, is constantly growing and changing.
To celebrate our open hardware series—and to help keep you in the loop on all things open hardware—we've rounded up 21 makers, tinkerers, and open hardware enthusiasts to follow on Twitter. Want more? Check out @opensourceway's full open hardware list.
Note: Information about each person has been pulled from their Twitter profile and copy edited for easier reading.
21 open hardware enthusiasts to follow on Twitter
@TheArduinoGuy | Michael McRoberts
Author of Beginning Arduino, now in its 2nd Edition. Arduino and electronics enthusiast. Maker. Amateur astronomer. Cat botherer. #ArduinoHero
@echoshack | Tony Wakefield
Arduino, RaspberryPi, Intel, Edison, hacker, 3D printing, author of Echo Shack Ham Radio, Ap contributor to Open Hand Project and New Fingers. 
@ben_nuttall | Ben Nuttall
Education developer advocate for the @Raspberry_Pi Foundation. In to free software, maths, kayaking, GitHub, Adventure Time & Futurama.
@FozzTexx | Chris Osborn
I fix stuff, I build stuff, I invent stuff: #DIY, #Maker, #Arduino, #RaspberryPi, coin-op, arcade, pinball, woodworking, retrocomputing, DevOps
@zengirl2 | Leslie Birch
Certifiable geek into tech art, wearable tech, citizen science, Arduino, video, robots, birding, Star Wars, and Japanese culture. Major vegan foodie. INFJ/P
@spotrh | Tom Callaway
Co-author of Raspberry Pi Hacks, Linux hacker, geocacher, pinball wizard, board gamer, role player, frog lover, hockey nut, and SciFi fan.
@dcschelt |  David Scheltema
Technical Editor (@Make), OSHWA, EFF & FSF member. Into BeagleBoards, Arduino, AVR, & a Linux geek since 1.2. Recovering tennis pro.
@gabriella_sneel | Gabriella Sneel
Creative tech, artist, coder, open source hardware designer working on Protei robotic sailboats
@nicknormal | Nick Normal
Artist, maker, librarian, diplomat, Queens enthusiast, World Maker Faire, Ciao!
@cibomahto | cibomahto
Maker, hacker, dreamer, organizer
@msenese | Mike Senese
Executive Editor, @MAKE magazine. TV host on Discovery & Science Channel—How Stuff Works, Punkin Chunkin, etc.
@dalepd | Dale Dougherty
Founder of MAKE Magazine and creator of Maker Faire, CEO of Maker Media. Board member of O'Reilly Media.
@scanlime | Micah Scott
Art engineer, chaos demon, technical mystic, time traveller from the distant present.
@mbanzi | Massimo Banzi
Arduino co-founder. I make stuff. Tweeting a link doesn't mean endorsing its content.
@EddieKrassenste | Eddie Krassenstein
Co-founder & Journalist/Reporter at 3DPrint.com and 3DPB.com
@ChipAddict | Nathan Seidle
SparkFun guru, BatchPCB creator, hardware evangelist
@chr1sa | Chris Anderson
3D Robotics CEO, DIY Drones, ex Wired EIC, Long Tail, FREE, Makers, GeekDad, etc. And five great kids who put up with it all.
@mellis | David A. Mellis
I'm a PhD student at the MIT Media Lab and a co-founder of the Arduino electronics prototyping platform.
@ProfPearce | Joshua Pearce
I run the Michigan Tech's Open Sustainability Technology Lab. We explore #solar #PV #energy #3Dprinting #reprap #green #openhardware
@Jadon | Jason Kridner
BeagleBoard.org community guy and open source evangelist at TI
@suehle | Ruth Suehle
Open Source and Standards at Red Hat. Editor, GeekMom.com & Opensource.com. Co-author Raspberry Pi Hacks. Sewing, cake-ing, making.
Is someone missing from this list? Add their handle in the comment section below so we can check them out and add them to our list on Twitter.
Open
Hardware
A collection of articles on the current state and future of open hardware.

This work is licensed under a Creative Commons Attribution-Share Alike 4.0 International License.