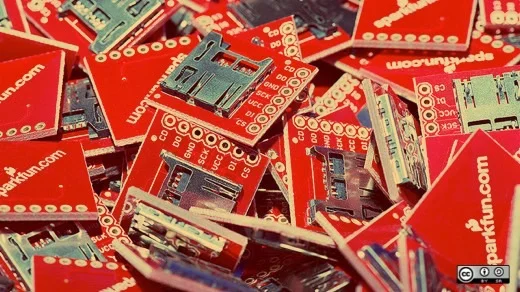 To celebrate the greatness that is open hardware, our team gathered once again, as we did last year, for a Staff Open Hardware Day at Red Hat Tower.
Over burritos and queso, we hatched our plan. First, we cracked open our package of components from SparkFun and got to work on a light-up backpack inspired by a project we found on Instructables. Next, with some inspiration from the Raspberry Pi Foundation's Ben Nuttall, we played around with Minecraft Pi on our Raspberry Pi. Finally, we ended the day with a 3D printing demo from Tom Callaway and his LulzBot open source 3D printer.
My fun coworkers @RedHatJobs for Staff #OpenHardware Day @opensourceway pic.twitter.com/yu7YnBaOYn

— Jen Wike Huger (@JenWike) May 6, 2015
Minecraft on the Raspberry Pi 
We had a freshly installed copy of Raspbian on our Raspberry Pi's SD card, so after a quick update of the installed packages, we installed Minecraft Pi Edition. While Minecraft isn't open source, we installed it specifically to use the Pi to learn about Python, a great language for programming beginners.
After figuring out how to interface with a character in the game, we loaded some basic stone blocks in at a set location. Fun! But no programming exercise is complete without blowing something up, so our next attempt was to load in TNT with our program and make it explode. At first, our TNT was a dud, but after some help from Ben via Twitter, we modified our program to make the TNT explode-able.
@opensourceway ...the final argument is data - 1 means explosive. Then just hit one with your sword.

— Ben Nuttall (@ben_nuttall) May 6, 2015
After whacking it with a sword, we had success!
Figured it out. Thanks @ben_nuttall! pic.twitter.com/H2uFW8SI7d

— Alex Sanchez (@_alxsanchez) May 6, 2015
Light-up Backpack project
We modified the instructions for this turn signal biking jacket project from Instructables to be a light-up Opensource.com backpack project. We got most of the open hardware required from SparkFun. The whole process ended up being pretty tedious—there was sewing and conductive thread involved—so we didn't finish, but hope to give you an update on that project this summer.
.@JenWike and @rikkiends planning out a biking turn signal backpack for @opensourceway staff open hardware day. pic.twitter.com/zo3D9IqAav

— Alex Sanchez (@_alxsanchez) May 6, 2015
Community manager @rikkiends with an update on our turn signal backpack: pic.twitter.com/lVchxVuIoB

— Open Source Way (@opensourceway) May 6, 2015
LulzBot 3D printing demo
LulzBot designs, builds, and sells desktop 3D printers, plus parts and plastics, for entrepreneurs, inventors, engineers, and experimenters. Their 3D printer holds the Respects Your Freedom certification from The Free Software Foundation (FSF) because it's open hardware: it comes with complete with designs, software, documentation, source code, and specifications.
And we're printing! pic.twitter.com/IdR0boLxkE

— Open Source Way (@opensourceway) May 6, 2015
Tom Callaway, a Red Hatter and co-author of Raspberry Pi Hacks, brought out the LulzBot 3D printer for show and tell. His collection of 3D printed parts included a couple of rotating gears, a bracelet Jen wore for the duration of the demo, a dinosaur and human skull, and more fantastic items.
.@spotrh fielding questions while he sets up for our 3D printing demo: pic.twitter.com/QVafrtekRU

— Open Source Way (@opensourceway) May 6, 2015
Overall, we had a great time and look forward to the next one! Maybe we won't wait a whole year this time to do it again.
Opensource.com publishes stories about creating, adopting, and sharing open source solutions. Follow us on Twitter @opensourceway.

This work is licensed under a Creative Commons Attribution-Share Alike 4.0 International License.