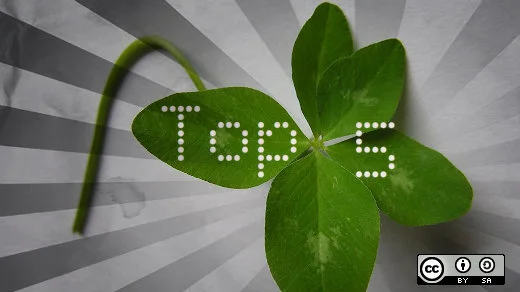 This week, I talk about open source revolutionizing content management, finances, LDAP, and more.
Subscribe to our YouTube channel to get our newest video uploads.
Top 5 articles of the week
#5. What is open source? Licensing, history, and more
Nicole Engard gives us her summary of a talk by Gina Likins of Red Hat about teaching open source to others; she recently gave this talk at the South Central Consortium for Computing Sciences in Colleges (CCSC). She covers history, licensing, and more.
#4. How an open standard API could revolutionize banking
Noel Peatfield tells us how open bank data will give us the freedom to access all banks in real time and from a single view, automatically calculating the best deals in complete transparency. This could be a significant step forward for social good by giving people more control over their finances.
#3. The benefits of using RADIUS over LDAP
Nick Owen wants to propose a better authentication protocol than LDAP. It's called RADIUS, and Nick tells us that it's incredibly simple to configure and supports more functionality than LDAP, but is not often considered by developers that are creating enterprise-oriented software. However, it is supported by Cisco, Checkpoint, Netgear, Apache, PAM, every two-factor authentication vendor, every VPN provider, and more. So, maybe it's time you learn more about RADIUS.
#2. PyCon 2015 conference report & video roundup
This year's Python conference, called PyCon, was held in Montréal from April 8-16. That's 9 days of Python goodness. So, what did attendees do the whole time? Well, it's broken up into segements: the first two days were dedicated to the Tutorials and Language Summit, then there were two days of conference talks, and finally sprints and working sessions comprised the last three days. Pierre-Yves Chibon, a Fedora web application developer, gives us a report and video roundup of the talks in this article.
#1. An open source, e-commerce friendly CMS
Like many great open source projects, Microweber was born out of a problem. Borislav Iordanov tells us that "Microweber aims to take the complexity out of building a website, online shop, or blog, through a combination of drag-and-drop [user interface] and real-time, WYSIWYG site edits." Check out this flexible CMS on the website.
Jen leads a team of community managers for the Digital Communities team at Red Hat. She lives in Raleigh with her husband and daughters, June and Jewel.

This work is licensed under a Creative Commons Attribution-Share Alike 4.0 International License.