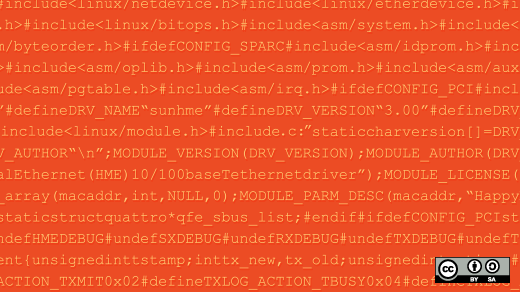 Google Summer of Code is an initiative that connects talented college computer programming students worldwide to open source programming projects, allowing them to grow their programming skills while contributing to open source. Under the guidance of a mentor, students are able to earn up to $5,500 for successful completion of their programming goals (the other $500 is donated to the organization mentoring the student). This initiative is growing a whole new crop of talented coders with a passion for open source, who themselves will be spreading the open source way throughout their professional careers.
Google's Carol Smith, who runs Google's Summer of Code, will be presenting at this year's All Things Open in Raleigh, North Carolina.
The two universities that have sent the most students to Google's Summer of Code are located in Sri Lanka and India—University of Moratuwa and Indian Institutes of Technology. To what do you attribute the flowering of open source academic talent at these universities?
I think it's a lot of things. Certainly there's a growing enthusiasm in many countries for free and open source technologies in businesses, university administration, and in public administration generally. These universities in particular really support their students participating in Google Summer of Code. The professors and students who know about the program all spread it through word of mouth and continue engaging new interest in it year after year. I think there's also a lot of excitement all over the world about helping with FOSS (free and open source software) nowadays, and GSoC is a great entrance into that world for everyone involved. 
Google Summer of Code students sometimes are not able to complete the goals for the project they undertake. Are there still benefits to the open source project and to the student when summer project goals are not met?
Absolutely. We hear over and over again from students who may have failed at one of their evaluations in GSoC and come back the following year again to participate, and even from students who pass the whole program but simply didn't complete their project to its potential and come back the following year to add those finishing touches.
We also always advise students who aren't accepted into GSoC that the best way to make yourself a stronger candidate for the following year is to continue contributing to open source software in a volunteer capacity. We hear from these students as well that this experience is often the thing that gets them accepted the following year (so that's very beneficial!)
Are there any stories of Google Summer of Code students going on to found their own companies or launch their own significant open source project? Any students hired at Google? 
The most common story we hear is from the students who go on to become mentors and/or organization administrators or core contributors. That happens quite often and we're very proud of that. The story of Tobi Mueller is a great one: he went from being a GSoC student in 2007 to being on the board of directors for the GNOME foundation in 2012. He was featured on the official Google blog. Angela Byron is "one of the most highly regarded contributors to the open source movement" (according to her Wikipedia page) and she was a student in GSoC the first year it ever ran, 2005. We have certainly had students (and mentors) go on to work at Google as well. 
Is the mentoring students receive roughly equivalent to what would occur in an old-fashioned apprenticeship? In what ways similar and in what ways different?
I actually don't know that it is very similar.
Firstly, the work that the students do is all done online, which is why it can be open to students all over the world. Some of these students don't ever end up meeting their mentors or organizations in person—they manage to handle the whole project from home.
Secondly, even though the students are working on a project idea that most likely came from the organization, the projects are often self-directed by the student. The student has to propose a full project plan and timeline and has to do the coding, testing, and documentation work themselves.
The mentor is really a mentor. He or she provides guidance and road signs for learning for the student, but they aren't expected to do any of it themselves—and they don't. The mentor and the community provide the support structure, but it's up to the student to get the work done. I feel if the program is done right the student has all the tools he/she needs at each step of the way to do the project well themselves.
What are the key personality traits students should be developing in high school if they think they might be suited to participate in Google's Summer of Code in college? 
Enthusiasm and interest in participating in an online community is certainly the most important. We see over and over again that students who are enthusiastic and involved in the communities for GSoC are the ones that stay involved after the program is over, which is what's most important to us and to the organizations. Hopefully a very precocious high schooler is also already participating in Google Code-in as well, because that will give him or her the best skills and direct experience for when they are old enough to participate in GSoC! 
What has been the most rewarding part of your job?
Most certainly all the stories I hear of changing our students' lives. Just yesterday I got an email saying, "I would like to thank you and the entire Google Open Source Programs Office for the Google Summer of Code 2015. This was actually a life changing experience and it also me saved at a time when things seemed to fall apart financially. Contributing to open source gave me the chance to learn a lot about software development and being part of a team/community of developers."
Those emails make it all worth it, it's wonderful to know that we're really affecting lives with this program. 
To your knowledge, have any other companies instituted something similar to Google's Summer of Code?
Sure, there are a few Summer of Code-like programs now: Outreachy, which is now housed within the Software Freedom Conservancy (formally by GNOME). The European Space Agency hosts SOCIS and there's also Rails Girls Summer of Code, which is hosted by the Rails community. I hope that list continues to grow! We love seeing the communities and people this program's model can reach. 
How has mentorship factored into your own life and career?
Mentorship has been a huge help to me in my career. My management of this job, in fact, was largely defined at the outset by mentorship by Leslie Hawthorn, who had been running the program before me. She helped get me adjusted to managing a community, managing the program, and learning the new skills I needed before I took it over. In my career generally it's been a huge help, too. My field of study in university wasn't in the technology field, so much of what I've learned in each job has been helped along by mentors who have given me the resources I need to succeed.
As a library worker, it's my duty to ask you what books you've enjoyed reading in the past few years.
Station Eleven is certainly high on the list. It's been recommended to me by a few people recently and I finally got around to reading it and really enjoyed it! I've also been listening to Agatha Christie's Hercule Poirot novels on audiobook recently, and hearing the narrator (David Suchet) do all the voices and getting wrapped up in the mysteries has been a joy.
I'm trying to read 52 books this year and am only four books behind schedule to finish!
Do you think there's a book that could be written (or ought to be written) encapsulating the collective experience of Google Summer of Code? Would it take a sabbatical year to write such a book? 
Yes, I think there's enough interesting anecdotes from the 11 years of the program that it could make up a whole book. It certainly would be an interesting book I'd read! There are lots of student, mentor, and organization stories from the program that would be wonderful to have for others to read and enjoy. It would most assuredly take a lot of interviews with participants, which would take some time, maybe a sabbatical year would be good for the right person to do it. 
All Things Open
Speaker Interview
This article is part of the All Things Open Speaker Interview series. All Things Open is a conference exploring open source, open tech, and the open web in the enterprise.
Phil Shapiro has been an educator, teaching students from pre-school to graduate school for the past 30 years. He currently works at a public library in the Washington, DC area, helping youth and adults use 27 Linux stations.

This work is licensed under a Creative Commons Attribution-Share Alike 4.0 International License.