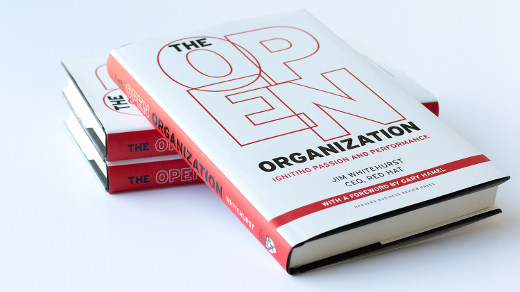 We are at an incredible intersection in history. The growth of computing, the Internet, and education is creating a wealth of open innovation around the world. While this was born back in the early days of "free software" in universities, it is now a global phenomenon powering major infrastructure, banks, devices, and more.
It has also spawned hundreds of companies that were born in a culture of open source and collaboration. This is changing how we do business.
The Open Organization is all about taking that spirit of openness and collaboration and injecting into it the complex organism that is a company.
I am honored to kick off The Open Organization Book Club and the coming weeks of ideation, engagement, and exploration around the ideas presented in the book. In the true spirit of openness, your thoughts and insights will help us evolve this fascinating intersection of people, process, and imagination. As part of this, I encourage you to participate, share insights with others, and ask the questions that are important to you.
Let's do it!
Discussion (Chapter 1: Why opening up your organization matters)
In the book club this week, we'll be discussing "Chapter 1: Why Opening Up Your Organization Matters."
"An 'open organization'—which I define as an organization that engages participative communities both inside and out—responds to opportunities more quickly, has access to resources and talent outside the organization, and inspires, motivates, and empowers people at all levels to act with accountability. The beauty of an open organization is that it is not about pedaling harder, but about tapping into new sources of power both inside and outside to keep pace with all the fast-moving changes in your environment." (p. 2)
What fascinates me about The Open Organization is that it fundamentally breaks down many of the broken cultural norms in many companies. It believes that collaboration and ideas can come from anywhere, that they can bubble to the surface with the right combination of people, process, and leadership.
I have seen this myself when I have consulted with companies exploring inner-sourcing and building open source best practice into their organizations. The Open Organization offers a fresh approach to delivering value.
For those of us familiar with this culture, it is empowering and powerful. For those unfamiliar, it can be difficult to wrap your head around. It can be difficult to see how it fits into your business and how it maps to traditional ways of working.
This opens up a bunch of interesting questions I would love to hear your thoughts on:
What do you feel is the most effective way to crisply communicate the main benefits of an open organizational model to a senior leadership team in a company?
Which companies do you feel are great examples of an open organization, and what are three attributes about each that you feel others can learn from in terms of how they run an open organization?
Let's ensure we get a good balance. What are the major risks of an open organization, and how would you mitigate those risks?
I can't wait to hear your thoughts!
A message from Jim
Resources
Follow the conversation on Twitter #theopenorg
Jono Bacon is a leading community manager, speaker, author, and podcaster. He is the founder of Jono Bacon Consulting which provides community strategy/execution, developer workflow, and other services. He also previously served as director of community at GitHub, Canonical, XPRIZE, OpenAdvantage, and consulted and advised a range of organizations.

This work is licensed under a Creative Commons Attribution-Share Alike 4.0 International License.