Take a look back at the week's most popular articles.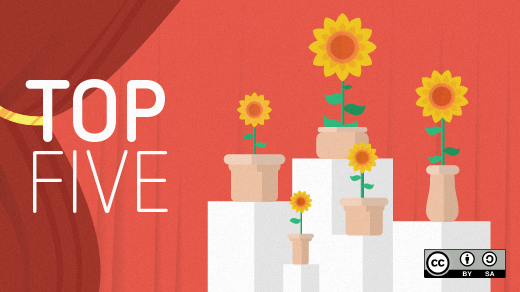 In this week's top 5, we take a look at naming colors with machine learning, the stages of becomming a Go programmer, and more.
This week's top articles
Long-time Linux user and open source fan Robert Kratky writes about modular documentation and how it can make life easier for documentation writers and readers. The modular structure makes it possible to present documentation to users in a manner that better targets their needs.
Linux system engineer Jose Delarosa explains how to use Red Fish and Ansible to fully automate server management and why this scalable and secure solution is important in today's data centers.
Senior software engineer Michael A. Alcorn brings us this fascinating article about how word embeddings can provide interesting relationships between words and colors when used as part of machine learning system.
New writer Tom Karpiniec writes about the intersection of Linux and amateur radio and how this provides a viable communication platform in some parts of the world.
New writer and Go programmer Daisuke Maki describes his learning journey with the Go programming language. A comment to a coworker led to this seven-stage path to enlightenment.
Educator, entrepreneur, open source advocate, life long learner, Python teacher. M.A. in Educational Psychology, MSED in Educational Leadership, Linux system administrator, Follow me at @Don_Watkins . Mastodon ID

This work is licensed under a Creative Commons Attribution-Share Alike 4.0 International License.