Celebrate the Opensource.com 9-year anniversary by voting in our community awards.
222 readers like this
222 readers like this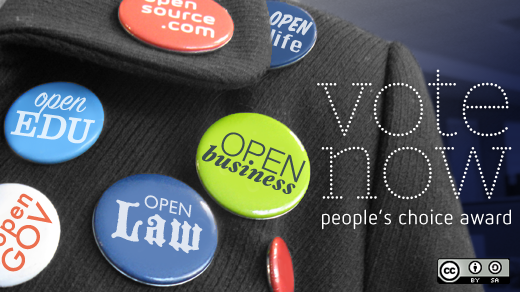 The People's Choice Award recognizes the community's favorite contributors from 2018. Voting is open from January 21 - January 31.
Nominees are individuals whose 2018 contributions made a big impact in our community. Some are now members of our Contributors Club, which recognizes writers who have made 3 or more contributions in 12 months. We excluded previous winners and Red Hat associates from this list.
Learn more about each nominee below.
Voting closed on Thursday, January 31.
2019 People's Choice Award nominees

Sam Bocetta is a retired defense contractor for the U.S. Navy, a defense analyst, and a freelance journalist. He specializes in finding radical — and often heretical — solutions to "impossible"​ ballistics problems. He covers trends in international commerce, patents, InfoSec, cryptography, cyberwarfare, and cyberdefense.
---

Phil is a Distinguished Engineer & CTO, Container and Linux OS Architecture Strategy for the IBM Watson and Cloud Platform division. Phil is currently an OSS maintainer in the Docker (now Moby) engine project, the CNCF containerd project, and is a member of both the Open Container Initiative (OCI) Technical Oversight Board and the Moby Technical Steering Committee. Phil is a long-standing member of the Docker Captains program and has enjoyed a long relationship with key open source contributors and experts in the Docker ecosystem.
---

Lacey Williams Henschel is a software engineer with REVSYS and part of the organizing team for DjangoCon US. In the past, she's chaired DjangoCon US, organized several Django Girls workshops, taught courses for Treehouse, and written about accessibility at tech events.
---

Catherine Louis is a Certified Scrum TrainerTM, independent Agile coach, founder of CLL-Group.com, PoDojo.com, and founding member of Tech Ladies®. When she's not helping companies with their business agility efforts, she's busy with Search and Rescue - focused on training dogs and their handlers how to find and rescue missing people.
---

Katie has worn many different hats over the years. She has previously been a software developer for many languages, systems administrator for multiple operating systems, and speaker on many different topics. When she's not changing the world, she enjoys making cooking, tapestries, and seeing just how well various application stacks handle emoji.
---

Patrick is a veteran Information Technology professional, IBMer, and Senior Cloud Specialist at The Hartford. His professional interests include Web Development, Cybersecurity, ARM-based single-board microcomputers, space technologies and exploration, and infrastructure hyper-connectivity (IoT). Patrick graduated from Baker College with a B.S. in Computer Science and from the University of Illinois at Urbana-Champaign with a certificate in UNIX Systems Engineering. He is also a member of the Institute of Electrical and Electronics Engineers (IEEE), IEEE Computer Society, IEEE Cloud Computing Society, and the FBI InfraGard Alliance.
---

Since mid-'80s, I have been striving for simplicity and maintainability in software engineering. As a software engineer, I analyse, design, develop, test, and support software solutions. I am passionate about continuous innovation and to share learnings from the digital transformation, by Microsoft and the ALM | DevOps Rangers, to a DevOps culture to adapt people, process, and products to continuously deliver value to our end users. You can follow me on www.linkedin.com/in/wpschaub, https://willys-cave.ghost.io, and https://twitter.com/wpschaub.
---

Jeff Triplett is an open source developer and works as a software engineer, consultant, and partner at REVSYS. He is a Board of Director at The Python Software Foundation (The PSF). Jeff has worked with Django since before it was officially released and is active in the Django community and is a Django Software Foundation member. He is President of the Django Events Foundation of North America (DEFNA), and has served as Chair, Co-Chair, Vice-Chair, and/or volunteered with DjangoCon US since 2014. 
---
Voting closed on Thursday, January 31.
---
More community awards
Jason Hibbets is a Principal Program Manager at Red Hat with the Digital Communities team. He works with the Enable Architect, Enable Sysadmin, Enterprisers Project, and Opensource.com community publications. He is the author of The foundation for an open source city and has been with Red Hat since 2003.
Jen leads a team of community managers for the Digital Communities team at Red Hat. She lives in Raleigh with her husband and daughters, June and Jewel.
Contributors

This work is licensed under a Creative Commons Attribution-Share Alike 4.0 International License.