Looking for an open source word processor? One of these three options may be just what you need.
Even though I write for a living, I rarely use a word processor these days; I do most of my work in a text editor. When I do need to use a word processor, I turn to LibreOffice Writer. It's familiar, it's powerful, and it does everything that I need a word processor to do.
It's hard to dispute LibreOffice Writer's position at the top of the free and open source word processor food chain—both in popularity and in the number of features it has. That said, Writer isn't everyone's favorite word processor or their go-to application for writing.
Sure, the number of free and open source word processors has dwindled over the years. But LibreOffice Writer isn't the only game in town. If you're in the market for an alternative to Writer that's also open source, test drive these three word processors.
Calligra Words
Calligra Words is easily the most powerful of the three word processors I'll look at in this article. It does just about everything that LibreOffice Writer does, and actually does one or two things that Writer doesn't.
You get all the advanced features you'd expect in a word processor, ranging from text manipulation to handling tables and images. Calligra Words gives you a lot of control over all elements of a document, and it uses ODT as its native format. It also has a distraction-free mode, which takes over your screen and shows only what you're writing. There are no window decorations, menus, or toolbars to pull you away from your writing.
While Calligra Words has a limited number of import and export filters, there is one pleasant surprise: the ability to convert your documents to EPUB and .mobi (two popular e-book formats). The files I converted to EPUB turned out fairly well, although the .mobi files I exported wouldn't open in calibre.
You might find the Calligra Words user interface not to your liking at first. It doesn't look like most word processors you're used to. Most of the tool's formatting functions are in a dockable side panel that takes up quite a bit of screen space. You really need to try to get used to it before writing Calligra Words off.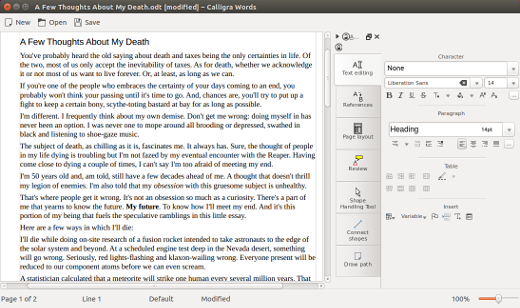 AbiWord
AbiWord is one of my long-time favorites; I've been using it on and off since around 2000. Its longevity is a testament to the fact that not everyone needs all the power and features of a word processor like LibreOffice Writer. Light and functional are two of the best words I can use to describe AbiWord.
It's light, but it delivers a solid punch. AbiWord packs all the basic features you'd expect from a word processor—like styles, text formatting, graphics handling, and tables—and a bit more. You can, for example, copy the styles from another document into an AbiWord document, giving you an instant template. AbiWord also comes with a surprising number of import and export filters, including some formats (like Applix Words and ClarisWorks) that were long thought forgotten.
While it's grown in size over the years, AbiWord is still fairly lightweight. It performs smoothly on the Chromebook where I installed GalliumOS.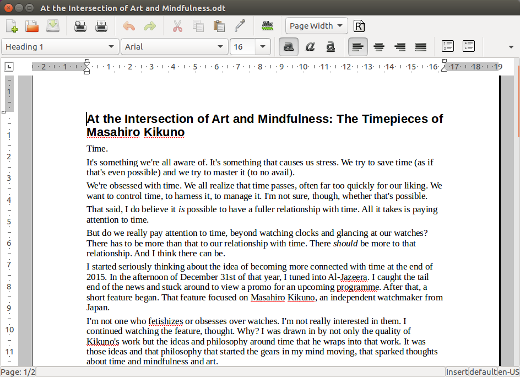 Wordgrinder
The first word processor I used was SpeedScript on a Commodore 64. SpeedScript served me well towards the end of high school and through university. Wordgrinder, much to my surprise, brought back a few fond memories of SpeedScript.
Wordgrinder is a barebones terminal word processor. You might think that it's a jumped-up text editor. It isn't. Wordgrinder's functions are limited, but they're more than enough to write with. You can format headings and body text, create lists, and even add preformatted text and code samples to a document. There's no support for tables or images, though.
Wordgrinder saves documents in its own binary format. You can, however, import ODT, HTML, and plaintext files. If you want to share or publish your work, you can export it to those formats as well as to Markdown, LaTeX, and troff.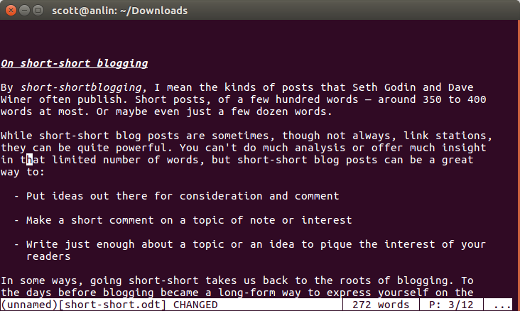 Do you have a favorite open source word processor? Feel free to tell our community about it by leaving a comment.
I'm a long-time user of free/open source software, and write various things for both fun and profit. I don't take myself all that seriously and I do all of my own stunts.

This work is licensed under a Creative Commons Attribution-Share Alike 4.0 International License.