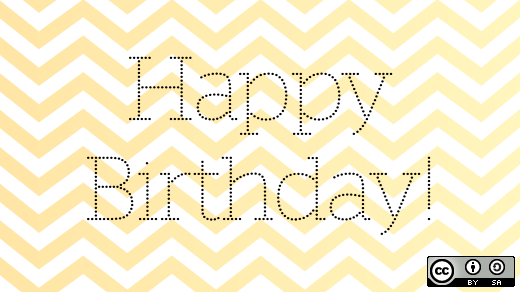 Six years ago, Red Hat CEO Jim Whitehurst announced the launch of Opensource.com. Opensource.com has come a long way since then, and I'm honored to be part of the community now. 
Back when Opensource.com launched, I worked on Linux Pro Magazine, and I remember sending the announcement around to my colleagues. I kept an eye on the newly announced community-driven site, and I watched as Opensource.com celebrated its first year.
"So I want to say thank you," Whitehurst wrote on the anniversary. "Thanks to the Opensource.com community of readers and writers who have offered their time, comments, suggestions, articles, and tweets--all to make the site a success. You helped us share more than 500 stories that highlight places where the open source way impacts businesses, government, education, the law, and our lives. Dozens of you contributed articles--from students leading open source in their schools to luminaries like Gary Hamel, Tim O'Reilly, and Simon Phipps. These articles were read a combined 1.3 million times by over 500,000 different people."
In 2015, we published 1,103 articles and we had almost 8 million page views. Although our community and story collection have grown, one thing that hasn't changed since the first year is our mission.
As Whitehurst explained on the first anniversary, "I eagerly await the day the open source way becomes the rule rather than the exception. Our hope will be to provide a place where we can shine a light on the progress along the way."
Thank you to our moderators, writers, and community for a wonderful six years. And thank you for trusting us to help share your open source stories, and to shine a light on the progress we're making. 
Find out how you can join the Opensource.com community: https://opensource.com/participate

This work is licensed under a Creative Commons Attribution-Share Alike 4.0 International License.