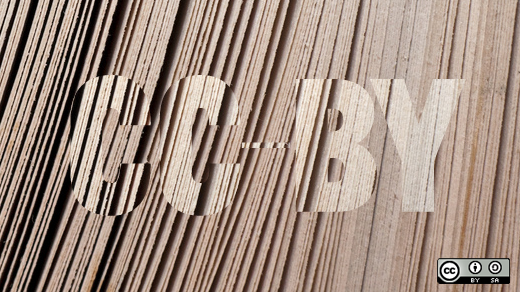 I began working with the Wikimedia Foundation in January 2012 for program and community support in India. With the Centre for Internet and Society's Access To Knowledge program, we focus on open access for scholarly publications to help communities enrich Wikipedia entries for Indic languages.
While I was negotiating with a few authors to relicense their copyrighted books to a Creative Commons license (a license that allows anyone to reuse, modify and use content), I began identifying certain areas of motivation for an author to donate their work as free content.
We worked closely with Goa University, Manik-Biswanath Smrutinyasa Trust, and the Institute of Odia Studies and Research.
Increasing open access for publications gained a lot when the government of India launched the National Repository of Open Educational Resources in August 2013 by the request of Wikimedia India. It generally takes a long time and much effort to negotiate with copyright holders for relicensing material as Creative Commons. But, when we do negotiate it, and win, the content is a permanent and valuable addition to open knowledge and the movement. 
So far, authors might be avoiding open licensing because:
They think it might put them out of business because others could plagiarize and republish their work without attribution.

They think if they will lose ownership of the content due to the nature of open licenses, which allow reuse.
Open licensing should be important to authors because as more readers and reviewers get access to their books and other online content, the visibility of their work increases, allowing them to gain more respect and popularity. This can, in turn, help authors sell more of the reprints.
The "one book in every child's hand" campaign by Pratham Books was an initiative by a large publisher to license Indian langage books with a CC BY-SA license. The campaign's mission was to provide access to knowledge and good quality education of native Indian languages to students whose families cannot bear educational costs. Pratham Books gained a lot of attention globally and the campaign proved to be a sustainable model for publishers and free licenses.
Scholarly research publications are less prone to plagiarism because of their low retail value compared to mainstream fiction, self-help books, or travel and lifestyle books. Encyclopedic books have even less retail value. Thus, releasing content online under free licenses would not affect such scholarly works or encyclopedic print publications to a large extent.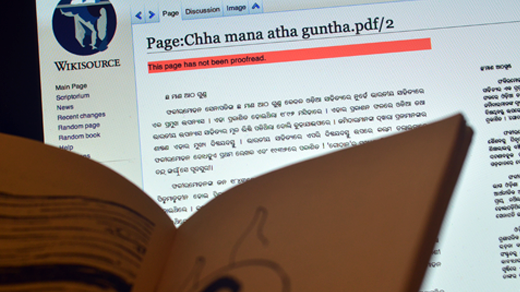 Photo by Veethika Mishra, CC-BY-SA 4.0
Relicensing projects
1. Last year, Goa University applied a CC BY-SA 3.0 license to their four-volume encyclopedia, Konkani Vishwakosh. It is the largest encyclopedia compiled in the language. The book is being digitized on Konkani WikiSource, attracting new volunteers.
2. Manik-Biswanath Smrutinyasa relicensed eleven of the noted author Dr. Jagannath Mohanty's Odia books under a CC BY-SA 3.0 license.
2. Classical Odia is a 600+ page book of historical documents and manuscripts on Odia language and literary heritage of more than 2,500 years. The researchers Dr. Debiprasanna Pattanayak and Subrat Prusty moved from copyright to a CC BY-SA 3.0 license. 
3. Two Odia language books by linguist Subrat Prusty have been relicensed to CC BY-SA 3.0. They are Jati, Jagruti O Pragati, and Bhasa O Jatiyata and have been digitized as well using ISCII standard fonts (not Unicode). ISCII standard fonts have glyphs with Indic characters that are actually replacements of the Latin characters by Indic characters.
4. A recent addition is the relicensing of the Kannada language encyclopedia published and copyrighted by Mysore University to a Creative Commons license.
The community and the publishers of books gain mutual benefits when more Indic language books are digitized, put online, and made freely available. By expanding online content and readership, a new life is given to many South Asian and non-Latin works, creating a revival for these languages and cultures.
Subhashish Panigrahi (@subhapa) is the founder of OpenSpeaks, an award winning project that helps grow open resources to digitally-document marginalized languages. He co-founded O Foundation (OFDN), a nonprofit that works towards addressing issues that lie in the cusp of people, culture, and technology with Openness in its core.

This work is licensed under a Creative Commons Attribution-Share Alike 4.0 International License.