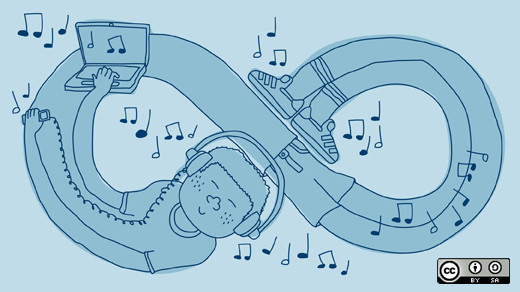 Do you think music software is only the domain of expensive proprietary software? Think again. There are literally hundreds of applications out there designed by, and for, those with a musical bent. Music projects, including many projects specifically for the Linux operating system, flourish in the open source community as musicians take to coding to produce tools to make their lives easier.
There are also a number of related projects out there beyond software, from free samples licensed under Creative Commons and similar licenses that you can use in the creation of your digital music, as well as, projects like the CASH Music effort which work to open up the music industry to wider participation by lowering the barriers to entry.
Join us as we take a tour of some of the many open source tools for musicians.
Learn music theory
No matter what instrument you play, or even if you write all of your music digitally, it pays to understand the foundations of music theory. When you're writing music, if you don't understand what notes create harmonies, and why, you'll be fighting an uphill battle.
Phonascus is an open source tool designed to help you learn how music works. Included are a number of skills and exercises for music students, including both theory lessons as well as those designed to help you tune your ears to what's happening in a composed piece of music. Learn to identify scales, intervals, notes, chords, and cadences, and explore included interactive books on music theory, all from one program.
Phonascus is developed on Launchpad, and is made available as open source under version 3 of the GPL. Compiled versions for both Linux and Windows are available for download.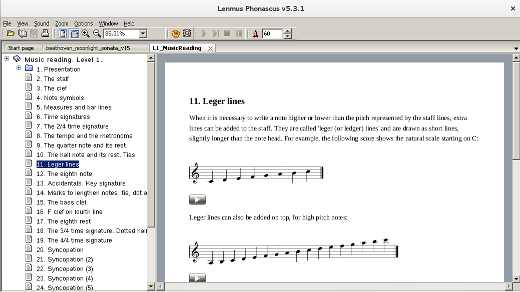 Record and edit audio
The most basic functionality for working with digital music is simply being able to record and edit audio files. For this task, Audacity is the Swiss army knife you'll need. Released fifteen years ago, Audacity is easy enough for even beginners to get started but still powerful enough that it finds itself in the toolbox of many professional musicians.
Audacity features the ability to import and export in a number of both free and non-free formats; to cut, paste, and edit clips; handle multi-track editing; adjust the speed of recordings; and a slew of other features. It also is built with a pluggable architecture, allowing numerous audio effects to be applied to any track loaded into the program.
Audacity is released as open source under the GPL version 2 or later, and the source code is available on GitHub. Windows, Mac, and Linux downloads are availble from the project homepage.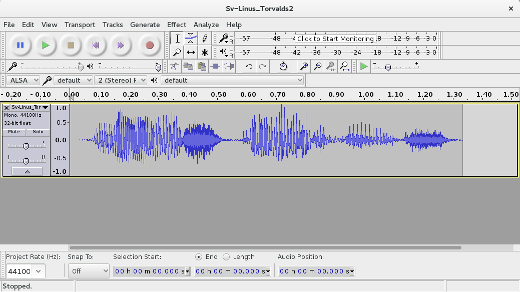 Tune your instruments
Next up, let's take a look at a tool that will help you keep your instruments in tune. The Free Music Instrument Tuner (FMIT) is much like what you would imagine; the digital version of the little tuner device many of us have sitting in our homes. It tells you if you're on pitch (or not), as well as how the pitch is sustained across the note. It also has a number of more "advanced" information about your tone, from waveform shape to harmonics ratios to statistics.
FMIT is open source under the GPL version 2, works in Linux and Windows, and its source code is available on GitHub.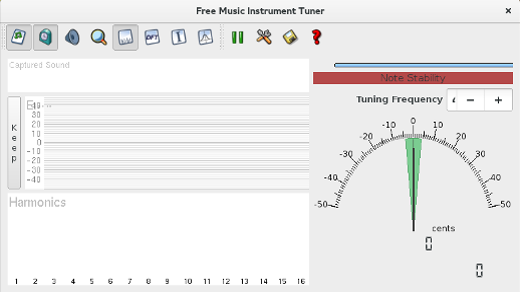 Write sheet music
Do you fancy yourself to be a composer? Say goodbye to writing music freehand (or with proprietary software) with LilyPond. LilyPond is a music "engraving" program, allowing your to create sheet music to mach the likes of Beethoven or Bach (talent not included). LilyPond uses text input to convert into rendered sheet music and can be embedded in a number of programs, from LibreOffice documents to plain old HTML, and there are a number of plugins available to make the output render in various content management systems.
The joy of using text for composing music include a certain degree of future proofing, plus the ability to manage your files just as you would any text document. You can edit in your text editor of choice, and use git or another version control tool to maintain revision.
LilyPond works with Linux, Mac, and Windows systems and is published under version 3 of the GPL.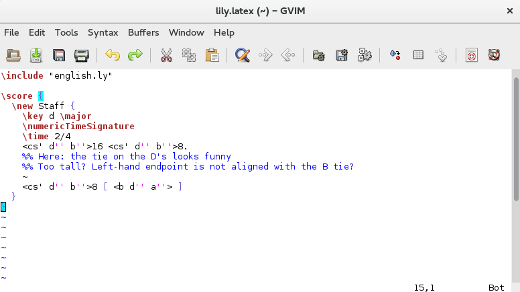 Sequence electronic music
If you want to make your own electronic music, you'll want to find a Digital Audio Workstation (DAW) you like. DAWs contain a number of features, but at their core they'll typically feature a sequencer to arrange notes, sequencer, a number of synthesizers to produce sounds, and the ability to interface with plugins (typically using VST) to apply effects to those sounds or entire tracks.
There are a number of open source DAWs for Linux and operating systems: Qtractor and Ardour are both popular options, but I like LMMS. LMMS (formerly Linux MultiMedia Studio) is very similar to the proprietary FL Studio, and if you have worked with FL Studio before, you'll feel reasonably comfortable in the LMMS environment. LMMS changed its name when it became a cross-platform program, now available for Linux, Windows, and Mac. And, it features a song editor, beat editor, piano input, support for MIDI keyboards, and a number of instruments which work out of the box.
The source code of LMMS is available on GitHub, and is released as open source under the GPL version 2.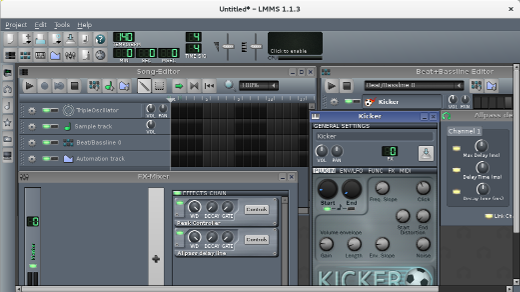 ---
These are a few of the many, many tools available to musicians under an open source license, and we couldn't list them all here. What are your favorites?
Former Red Hatter. Now a consultant and aspiring entrepreneur. Map nerd, maker, and enthusiastic installer of open source desktop and self-hosted software.

This work is licensed under a Creative Commons Attribution-Share Alike 4.0 International License.