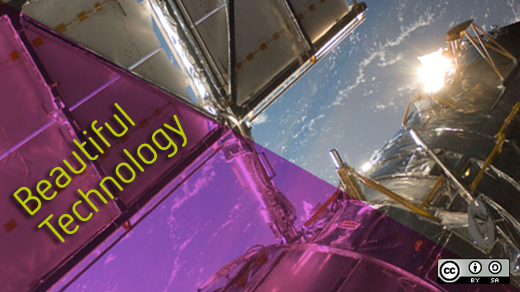 For anyone remotely interested in open source software within the earth and/or planetary sciences domain, the following article may prove somewhat an update of what is going on with the open source agenda within a part of the world's most advanced aeronautics and space administration, NASA. Some of those that are still reading may have recently rejoiced at the very recent successful launch of NASA's Soil Moisture Active Passive (SMAP) near earth orbiting satellite which was successfully launched on January 31, 2015.
SMAP will produce global maps of soil moisture, which will help improve our understanding of the Earth's water and carbon cycles and our availability to manage water resources. As both a NASA Jet Propulsion Laboratory (JPL) employee and a member of the Apache Software Foundation (ASF), I find it not only enlightening, but also utterly motivating to be involved in a foundational body like the ASF, so pervasive in its aspirations, and so unintentional in its mannerisms, that it can now claim a part success in powering the forefront of human understanding an exploration of the aforementioned science.
@TheASF Twitter feed stated recently: "Did you know that Apache #Tika + #OODT power #NASA's just-launched #SMAP instrument ground data processing system? http://smap.jpl.nasa.gov/."
The beauty about this entire scenario is the bare truth. The Apache Software Foundation has, since around 1999, been building a membership (merit)-based, not-for-profit corporation in order to ensure that Apache projects continue to exist beyond the participation of individual volunteers and organizations for the greater benefit of us all. This blog post focuses on how Apache technologies are being developed and used within a scientific setting, namely NASA JPL.
Does The Apache Foundation harness scientific projects?
The Apache Software Foundation has, since those early days, been at the forefront of challenging problems. Within the context of this article, the ASF has both fostered, and continues to host keynote scientific projects such as Apache OODT (a Top Level Project at the ASF which originally came from NASA's Jet Propulsion Laboratory), to recently incubating projects such as Singa (an efficient, scalable and easy-to-use distributed platform for training deep learning models used currently within Deep Convolutional Neural Network and Deep Belief Network as examples).
Over a number of years, at the ASF's bi-annual conference ApacheCon, an emerging Science track has been attracting professionals from across the open source community. This year, at ApacheCon North America in Austin, TX, the Science track is merging with the emerging Healthcare track covering software technologies relevant to both domains. The message here is clear… The Apache Software Foundation is a safe home for a wide range of projects aiming to build community around the common objective of developing and providing better code under the Apache Software License v2.0.
Whats next?
As the human race, through agencies such as NASA, we continue to embark upon discovery and exploratory endeavours such as the forthcoming conduct mission Europa Clipper; a concept under study by NASA that would conduct detailed reconnaissance of Jupiter's moon Europa and would investigate whether the icy moon could harbor conditions suitable for life, to current earth science missions such as NASA JPL's Regional Climate Modeling and Evaluation System (RCMES), powered by Apache Open Climate Workbench.
Our inherent thirst for more advanced, cutting edge, capable open source technology from across engineering disciplines is insatiable... and quite rightly so. Based on the above commentary (and the scores of other Scientific and Healthcare related projects which exists within the ASF), one could not be blamed for stating that The Apache Software Foundation not only promotes, but beams a progressive image of a foundation willing to host and further scientific software development in an open source environment for the benefit of all.
Licensing to enable
In closing, it is important to state that liberal software licensing practices are significant enabling factors in driving software development of this nature. The paradox here is that permissive software licensing practices may potentially seem ludicrous to many scientific/medical minds. Taken from the point of view of continuous progression in human scientific understanding, this assumption could not be any further from the truth. In fact, you will see that the code licensed under the Apache Software License v2.0, possibly the most permissive open source software license in existence, not only drives open source development but also acts as an enabler for collaboration on a variety of topics some of which have been documented within this article.
The question I leave you with is this... When are you getting involved?
Apache
Quill
This article is part of the Apache Quill column coordinated by Jason Hibbets. Share your success stories and open source updates from projects with the Apache Foundation by contacting us at open@opensource.com.
Lewis is currently an Engineering Applications Software Engineer at NASA's Jet Propulsion Laboratory in Pasadena, California.

This work is licensed under a Creative Commons Attribution-Share Alike 4.0 International License.