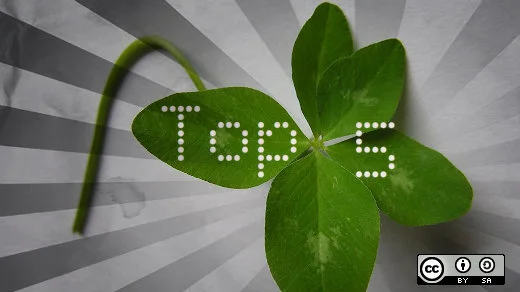 Welcome to the Opensource.com Weekly Top 5!
Subscribe to our YouTube channel to get our newest video uploads. They will mostly be this weekly Top 5 roundup of the best articles from the past week, but occasionally we'll do something fun like fly a quadcopter around... and into things.
Speaking of electronics, Arduino Day is March 28. Check out the article we just published of 6 Arduino projects to tinker with by staff Alex Sanchez.
Top 5 articles of the week
#5. Listen to streaming music with Pi MusicBox
After his project to control his Christmas Tree lights with his Raspberry Pi, Anderson Silva wondered what would he do next? Finally, he landed on tinkering with Pi Musicbox, a spin of Raspbian with Mopidy that allows users to play streaming music services like Spotify, TuneIn, and SoundCloud as well as local files. This is a step-by-step guide.
#4. How one professor saves students millions with his shared textbooks
Nicole Engard interviews David Lippman of Pierce Collage where he is a professor. He's saved students millions of dollars with his shared textbooks and also built IMathAS, a free and open source math assessment and course platform.
#3. Where is the best place online to learn a programming language?
Another poll this week! We based it on our last poll that did so well with readers asking which programming language was the best to learn first. This poll follows up with: From what service or organization should one then learn that language? Online, that is. Codecademy is out in the lead, with Coursera and written in choices close behind.
#2. Intro to Grace: an open source educational programming language
Joshua Holm brings us an article introducing Grace and explaining just how it is designed to meet the needs of teaching and learning programming in an educational setting. Holm includes some helpful code and a couple of videos to round out his coverage, including a talk at Linux.conf.au 2015 by Michael Homer.
#1.  How to do fast, repeatable Linux installations
David Both has been writing a series of articles for us on what he calls The Linux Philosophy. There are 9 tenents, of which you can read more about in his first and second articles. This one however is about automating all the things. David walks us through how he installs Linux and scripts repetative tasks, including a link to a fairly simple Bash script he runs to do the configurations and installation of desired RPM packages.
Jen leads a team of community managers for the Digital Communities team at Red Hat. She lives in Raleigh with her husband and daughters, June and Jewel.

This work is licensed under a Creative Commons Attribution-Share Alike 4.0 International License.