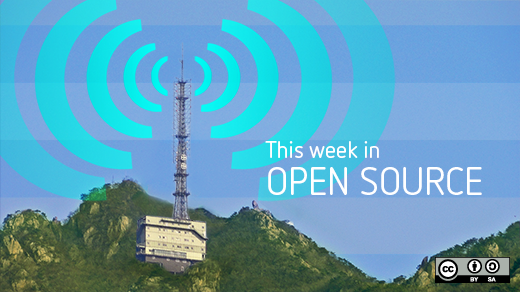 In this week's edition of our open source news roundup, I look at NASA open data, White House new hires, Indian government mandates, and more!
Open source news for March 28 - April 3, 2015
NASA creates open database of space station research
In open access and science news this week, NASA is opening up data on the research conducted aboard the International Space Station. This research and its data is enclosed in a database called Physical Science Informatics and was created by specialists at the Marshall Space Flight Center in Huntsville, Alabama. it includes results such as combustion science, complex fluids, fundamental physics, and more.
"The informatics system provides open access of the space station physical sciences data to the global community," said Fran Chiaramonte, program scientist for physical sciences at NASA Headquarters in Washington.
The White House new hires expand on open source
In recent months, several key people for the open source movement joined the White House.
First, the Washington Post reports that DJ Patil joins as Chief Data Scientist. Patil has worked for LinkedIn, Skype, PayPal, and eBay, and he is currently working at the data intelligence company RelateIQ. His area of focus includes open data and acquiring tech talent.
Second, David Recordon, the Engineering Director at Facebook, joins the White House as IT-director. He will be charged with modernizing the White House's technology.
Third, Andrew Nacin, a WordPress Lead Developer, joins the White House US Digital Service, whose mission is to "take what helped turn around healthcare.gov and apply it to other high priority projects across government."
Indian government mandates open source software
Many news sources, including ZDNet, reported the news that the Indian Government and its ministry of Communication and Information Technology has issued a new policy to mandate the use of open source software (OSS).
"The policy applies to both central and state governments in India, and must be observed for all new e-government applications and systems as well as new versions of legacy and existing systems."
The objective of the policy is to provide a framework for rapid and effective adoption of open source software, to ensure strategic control in e-Governance applications and systems, and to reduce total cost of ownership. Though the nature of compliance is mandatory, the policy contains a section that allows exceptions. Part of this exception reads: "...in certain specialised domains where OSS solutions meeting essential functional requirements may not be available or in case of urgent / strategic need to deploy CSS based solutions or lack of expertise (skill set) in identified technologies."
GitHub kids still don't care about open source
Matt Assay writes for Tech Republic that most repositories still don't carry a license. He explains why this is a problem and looks back at news Ben Balter shared earlier this month.
"[GitHub] has made significant efforts to get its developers to thoughtfully license their software." But if developers don't bother to license their code, it can create problems for those who want to deploy "this seemingly unlicensed software."
Assay concludes we shouldn't stay away from GitHub, but we should be asking developer(s) to choose a license.
In other news
Thanks, as always, to Opensource.com staff members and moderators for their help this week. Make sure to check out our event calendar, to see what's happening next week in open source.

This work is licensed under a Creative Commons Attribution-Share Alike 4.0 International License.