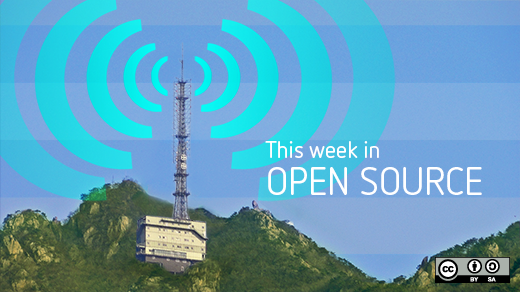 In this week's edition of our open source news roundup, we take a look at the adoption of open source databases, Creative Commons licensing to Open edX courses, SSH coming to Microsoft Windows, and more!
Open source news: May 30 - June 5, 2015
Why your next database will be open source
New data is increasingly finding its way into open source databases. This is what Matt Asay writes about for InforWorld. In his article, he says, "...open-source RDBMS products have matured in the availability of DBA skills, availability of DBA tools and near-equality of RDBMS functionality." The accelerated adoption has many reasons, the top one being community. Asay also looks at developers and DevOps teams who play a role in this increasing adoption.
In another article this week about databases, specifically about the NoSQL databases, Asay looks at PostgreSQL, MongoDB, and Cassandra.
Open edX adds Creative Commons licensing
Open edX announced this week that it has added Creative Commons licenses to its platform. Course authors can now choose a Creative Commons license for their courseware. The platform also allows for a mix of licenses, so you can include copyrighted videos or other materials too. Creative Commons writes in their own blog post that with this addition, edX joins the global Open Educational Resources (OER) movement. The Delft University of Technology played a big role in this news as well—the CC plugin was developed during Open Education Week 2014, an Open edX hackathon organized by Delft.
Microsoft Windows support for SSH
Many news sites this week, including IT World, covered the news on Microsoft Windows, which will add SSH support to its PowelShell. Secure Shell protocol and Shell session, known as SSH, is used by many Linux administrators. With this SSH support, Windows users will be able to securely connect and run terminal commands on Windows and Linux machines. The PowelShell team will be sharing their work with the OpenSSH project and its community. This new open source addition to Windows is in the planning phase; there is no release date yet.
Toyota eyes Ford's smartphone interface
Toyota announced it might adopt the open source SmartDeviceLink (SDL) protocol from Ford. This is the open source smartphone linking technology called Ford AppLink. Lucas Mearian writes for Computerworld that Toyota is collaborating with Livio, a Ford subsidiary, to implement the SDL technology in Toyota and Lexus vehicles. "Ford created SmartDeviceLink by contributing the AppLink software to the open-source community. The carmaker rolled out the API in 2013."
Open data hiding in plain sight
Beth Simone Noveck, US first deputy chief technology officer, and currently director of The Governance Lab, writes about how open data can be a powerful tool for better governing. She looks at nonprofit tax returns and the richness of data contained in these filings. The Cancer Fund would benefit from this data being fully open, machine-readable. As Noveck writes, "major efforts are underway to make nonprofit filing data more open."
In other news
Thanks, as always, to Opensource.com staff members and moderators for their help this week. Make sure to check out our event calendar, to see what's happening next week in open source.

This work is licensed under a Creative Commons Attribution-Share Alike 4.0 International License.