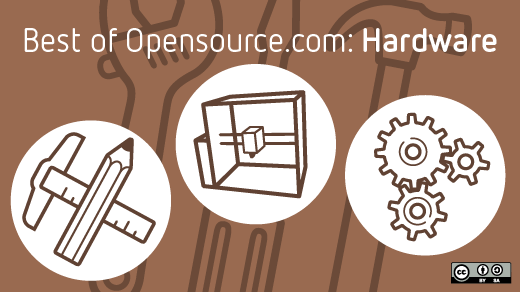 Hardware projects and the culture of makers in tech continued to grow by leaps and bounds in 2015. At Opensource.com, we published numerous articles about how to build, rig up, and connect something. We also covered new open source hardware that made its debut during the year.
Learn about some of the best of these articles in our round up of five of the most-read open source hardware articles on Opensource.com in 2015, plus a few bonus favorites.
Top hardware articles of the year
1. Raspberry Pi Zero: a $5 computer
Issue 40 of the official Raspberry Pi magazine, The MagPi, came with a free computer stuck to the cover.
2. Should I get an Arduino or a Raspberry Pi?
The most frequent question open hardware guru and author of Raspberry Pi Hacks, Ruth Suehle, gets asked is: Should I get an Arduino or a Raspberry Pi?
3. Create your own musical light show with Raspberry Pi
Frequent how-to writer for Opensource.com, Anderson Silva shows us how to use a Raspberry Pi and LightshowPi to create a musical light show.
4. Getting started with Minecraft Pi
The free Raspberry Pi version of game is based on Minecraft Pocket Edition for Android, and a Python API is provided. It's bundled with Raspbian, the Pi's main supported distribution, and it's being used to teach programming skills to young people around the world.
5.  Experimenting with Docker on a Raspberry Pi
Opensource.com staff editor Jason Baker takes a look at running a Node.js application in Docker on the Raspberry Pi.
Bonus favorites
Jen leads a team of community managers for the Digital Communities team at Red Hat. She lives in Raleigh with her husband and daughters, June and Jewel.

This work is licensed under a Creative Commons Attribution-Share Alike 4.0 International License.