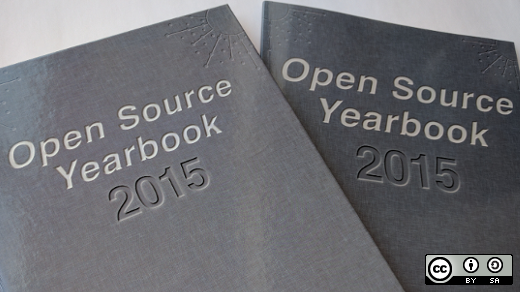 Last month we were pleased to announce that the 2015 Open Source Yearbook is available as a free PDF download. Now we're excited to unveil the 2015 Open Source Yearbook print editions, which are available to order on Lulu.com. 
Open Source Yearbook 2015 paperback: US$ 4.87 (+ shipping & handling)
Open Source Yearbook 2015 hardcover: US$ 23.49 (+ shipping & handling)
Enter for a chance to win a free hardcover edition of the 2015 Open Source Yearbook.
The idea behind the Open Source Yearbook was to collaborate with open source communities to collect a diverse range of stories from the year. We let the writers pick the criteria, which means the yearbook isn't just full of the fastest, most popular, smartest, or best looking open source solutions. Instead, the yearbook offers a mix of open source solutions and projects, from a range of writers and communities, to offer a well-rounded (albeit incomplete) glimpse at what open source communities and projects looked like in 2015.
To download the PDF or to order a print edition, visit our 2015 Open Source Yearbook page.
Note: We're selling printed versions of the 2015 Open Source Yearbook at cost, which is why prices are set to funny amounts instead of rounded numbers. Lulu determines the printing, shipping, and handling charges.
Rikki Endsley is the Developer Program managing editor at Red Hat, and a former community architect and editor for Opensource.com.

This work is licensed under a Creative Commons Attribution-Share Alike 4.0 International License.