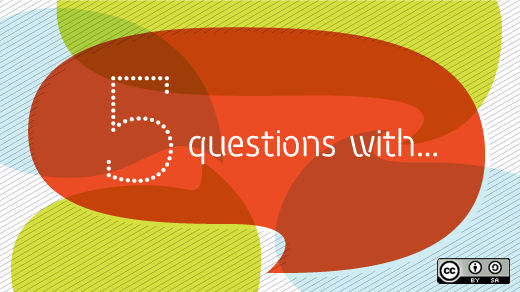 Meet John Scott. He is a systems engineer in Alexandria, Virginia. Scott has worked extensively on open source software policy for the US government and military--and helped found MIL-OSS and Open Source for America.
On opensource.com, community is very important. We want to continue to recognize our community members who contribute in ways other than writing articles--things like rating and commenting, voting in polls, and sharing our collective work on social media. We hope you enjoy getting to know John.
The basics
Name: John Scott
Opensource.com username: jmscott
Location: Alexandria, VA
Occupation/Employer/Position: Systems Engineer @ RadiantBlue Technologies, Inc.
Open source connection: worked on military and US government open source software policy and founded MIL-OSS and Open Source for America
Favorite open source tool or application: Open Office
Favorite opensource.com channel(s): Government and Life
twitter: @johnmscott

Questions and answers

Open up to us.
I work primarily in the government and military space promoting the adoption of open source software tools and methods. My company itself does allot of open source geospatial work as well. I also am working on a DARPA-funded open source hardware project called VehicleFORGE to help the US military share hardware designs.

What open tools and data help you get things done, and how do they help you?
I use Open Office pretty extensively, as well as OSGeo OSS tools.

What do you wish were more open?
Definitely more of the hardware manufacturing type design tools like CAD.
What are the biggest challenges to openness that you encounter, either at work or in your life?
An understanding of the open source model. I always tell people you have to live the model to understand it, showing it to you does nothing. It can take a while, but slowly they come around.

Why choose the open source way?
I do a lot of work with the US military. Having access to source code is key to be able to morph and evolve source code to meet the needs of the military.
Editor, writer, and developer. I wear many hats, including the red one. Graduate of UNC-Chapel Hill School of Journalism; long-time interest in all things geeky. Editor of Red Hat Magazine and grizzled industry veteran, including time as an archivist for SunSITE UNC (now ibiblio.org) and ten-plus years at my current gig. I love:

This work is licensed under a Creative Commons Attribution-Share Alike 3.0 Unported License.