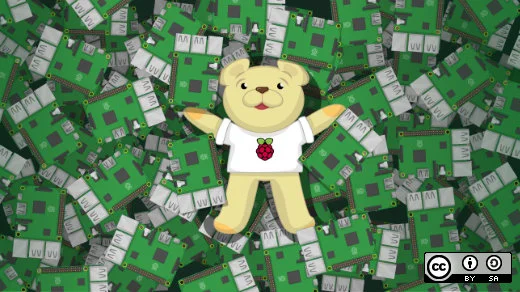 With more than 10 million units sold, the Raspberry Pi is a massive success. At this year's All Things Open, community manager Ben Nuttall gave a five-minute lightning talk introducing the educational charity behind the popular mini computer.
The Raspberry Pi Foundation was created in 2006 with the goal of getting more students to study computer science at Cambridge University. The solution, a small and cheap Linux computer, became incredibly popular with educators, hobbyists, and industrial users outside the university. All profits from the Raspberry Pi trading subsidiary, Raspberry Pi Trading Ltd., fund educational programs.
The foundation's new goal, "Putting the power of digital making into the hands of people all over the world," is fulfilled by providing low-cost, high-performance computers; outreach and education programs; and free resources and teacher training.
Free learning resources
The foundation provides free (and freely licensed) resources on its website and GitHub for anyone looking to teach, learn, and make with Raspberry Pi.
Picademy
Picademy is the Raspberry Pi foundation's free teacher training and professional development program, in which US and UK teachers apply to become certified Raspberry Pi educators.
Raspberry Jam
Raspberry Jams are independently organized events focused on learning and sharing with the Raspberry Pi. They mix the meetup, conference, and workshop styles into a fun, educational, and family-friendly event.
Code Club
Code Club is a network of after-school clubs for kids ages 9-11 that teach projects in Scratch, HTML, and Python. Anyone can start a Code Club, and the Raspberry Pi Foundation provides training and support for organizers and volunteers.
Opensource.com publishes stories about creating, adopting, and sharing open source solutions. Follow us on Twitter @opensourceway.
Contributors

This work is licensed under a Creative Commons Attribution-Share Alike 4.0 International License.