Take a look back at the week's top articles.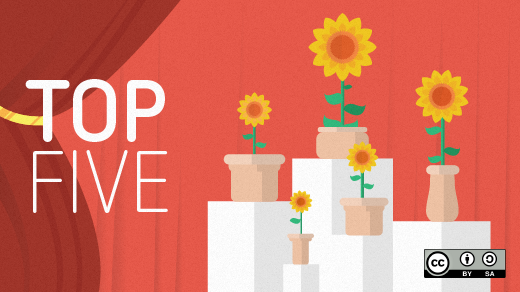 This week we look at four open source business models to consider, how to create custom wallpaper slideshows in GNOME, how to generate web pages with CGI and Perl, and more.
Top 5 articles
Daniel Rubinstein, a computer science undergraduate at Duke University, writes about how companies can grow with open source at the heart of their business model. If you'd like to build a business around open source, here are four successful models to consider.
Did you know that you can create slideshow wallpapers in GNOME? Ken VanDine has an excellent step-by-step article about how with simple XML, you can set GNOME to display a custom slideshow instead of its stock options.
Did you know that It is actually very simple to create CGI programs that can be used to generate a wide range of dynamic webpages? Community moderator David Both gives an easy to follow guide that will have you generating dynamic content quickly.
Greg Pittman explains how to use the PerlMagick module to organize multiple images from the command line. The article is a great example of the power of Linux and open source software in medical imaging.
Choosing the "best of" anything is always challenging, and choosing Opensource.com's best sysadmin articles from 2017 was no exception. Community Moderator, David Both, takes a look at the top five articles for system administrators that we published in the last year.
We're wrapping up the fourth and final week of our holiday giveaway series in style: With a LulzBot 3D printer from Aleph Objects! Enter by this Sunday at 11:59 p.m. ET for a chance to win.
Educator, entrepreneur, open source advocate, life long learner, Python teacher. M.A. in Educational Psychology, M.S. Ed. in Educational Leadership, Linux system administrator.

This work is licensed under a Creative Commons Attribution-Share Alike 4.0 International License.