Celebrate the Opensource.com 8 year anniversary by voting in our community awards.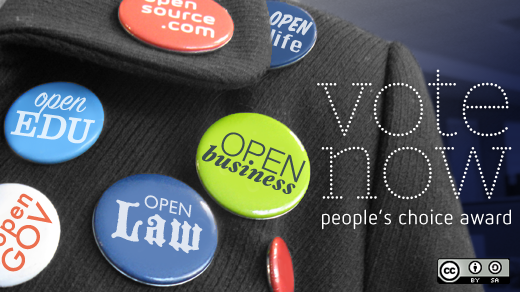 The People's Choice Award recognizes the community's favorite contributors from 2017. Voting is open from January 22 - 31.
Nominees are individuals whose 2017 contributions made a big impact. Some are now members of our Contributors Club, which recognizes writers who have made 4 or more contributions in 12 months. We excluded previous winners and Red Hat associates from this list.
Learn more about each nominee below and cast your vote by January 31.
Cast your vote by Wednesday, January 31.
2018 People's Choice Award nominees
Lauri Apple develops and evangelizes Zalando's open source efforts. She's also a producer/agile project manager for the company's core search engineering team and co-leads Zalando's InnerSource initiative. She's a frequent speaker, a member of the Open Organization Ambassadors program, the creator of the Feedmereadmes project and the Awesome List of Leadership and Management, and an active contributor to the Kubernetes community.
---
David Both is a Linux and open source advocate who resides in Raleigh, North Carolina. He has been in the IT industry for over forty years and taught OS/2 for IBM where he worked for over 20 years. David has written articles for OS/2 Magazine, Linux Magazine, Linux Journal and Opensource.com.
---
Jim Hall is an open source software developer and advocate, probably best known as the founder and project coordinator for FreeDOS. Jim is also very active in the usability of open source software, as a mentor for usability testing in GNOME Outreachy, and as an occasional adjunct professor teaching a course on the Usability of Open Source Software. From 2016 to 2017, Jim served as a director on the GNOME Foundation Board of Directors. At work, Jim is Chief Information Officer in local government.
---
Jen Kelchner is the co-founder & CEO of LDR21 and co-creator of dragonfli™, a groundbreaking platform for building, measuring and tracking human  agility in the workplace. She advises leaders on organization and culture change based on open organization principles. She is a member of the Open Organization Ambassador team. and her recent contributions include a monthly column, Open Organization definition, Open Organization maturity model, and the Open Organization Workbook.
---
Jeff Macharyas has worked in publishing and graphics for many years. He has been the art director for Quick Printing, The American Spectator, the USO's OnPatrol, Today's Campus, and other publications as well as a project manager, editor, writer and circulation manager. He is the Development Writer at Clarkson University in Potsdam, New York and recently earned his Amateur Radio license: K2JPM.
---
Scott Nesbitt is a long-time user of free/open source software, and write various things for both fun and profit. He says: "I don't take myself too seriously and I do all of my own stunts. You can find me at these fine establishments on the web: Twitter, Mastodon, GitHub, and GitLab."
---
Greg Pittman is a retired neurologist in Louisville, Kentucky, with a long-standing interest in computers and programming, beginning with Fortran IV in the 1960s. When Linux and open source software came along, it kindled a commitment to learning more, and eventually contributing. He is a member of the Scribus Team.
---
Jim Salter is a mercenary systems administrator located in Columbia, SC. He says: "My first real hands-on experience with open source software was running Apache on FreeBSD webservers in the late 90s and early 2000s. Since then, I moved on to Samba, BIND, qmail, postfix, and anything and everything else that grabbed my attention. I currently support Windows, FreeBSD, Debian, and Ubuntu workstations and servers doing just about everything that you can possibly do with any or all of them."
---
Chris Short has spent more than two decades in various IT disciplines, from textile manufacturing to dial-up ISPs to DevOps engineer to manager of DevOps to senior DevOps advocate. He has been a proponent of open source solutions throughout his time in the private and public sectors. Chris is a partially disabled US Air Force veteran living with his wife and son in Greater Metro Detroit. Check out his writing and other works at chrisshort.net and devopsish.com.
---
Jason Hibbets is a Community Director at Red Hat with the Digital Communities team. He works with the Enable Architect, Enable Sysadmin, Enterprisers Project, and Opensource.com community publications.

This work is licensed under a Creative Commons Attribution-Share Alike 4.0 International License.